Local pools struggle with shortage of lifeguards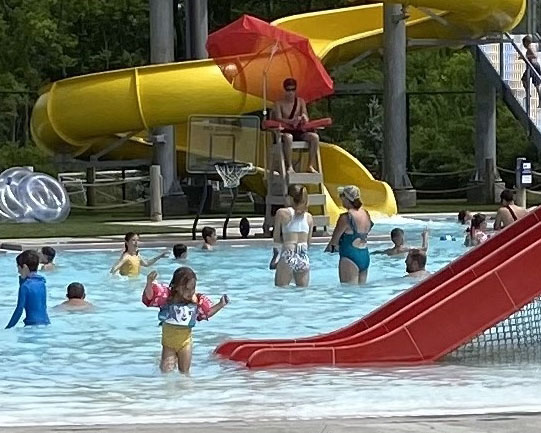 A shortage of qualified lifeguards in Oxford has resulted in the cancellation of private swimming lessons at Oxford Aquatic Center and the closure of Miami University's leisure pool last Saturday.
Oxford Parks and Recreation Director Casey Wooddell said that the city requires 35 employees to keep the aquatic facility in the Oxford Community Park open. 
"Right now we're just focusing on filling the basic requirements of covering for the swim team, covering for public swim hours, and covering for private parties after hours," Wooddell said. "We really don't have enough extra lifeguard hours to take on private lessons outside of those regular hours."
The leisure pool at Miami University's Recreation Center was closed for the day June 4 as a result of staff shortages. 
"We have large swimming [events] going on this weekend, so we were stretched thin as it was," Miami University Aquatic Center Director John Mihevic said. "And then we had two lifeguards call in sick, nothing serious, just the flu, whatever it was, and so that just kind of pushed it over the edge."
Mihevic said before COVID-19, Miami employed around 70 lifeguards during the school year. However, the pandemic disrupted lifeguard certification classes and training. 
"When COVID hit, we couldn't teach any lifeguarding classes, because of the close contact," Mihevic said. "Teaching rescues, you have to be right up in the person's face."
As a result, local employers have found fewer trained lifeguards available for hire. Twelve lifeguards were hired by the Miami Rec Center for the summer, Mihevic said. 
Although youth only have to be 15 years old for lifeguard training at the Rec, they must be 16 to work for Miami, he said. 
"I can't hire them at the university, but they can go work at the city pool, or the country club, things like that," Mihevic said. "Once you started a job [and] you worked at the city pool for two summers, you're not going to leave there to come to go to another pool."
Mihevic said the Rec pays lifeguards $13 an hour. 
According to Wooddell, the difficulty and expense of becoming a lifeguard may discourage some applicants.
"Not everyone is a great swimmer," he said. "And if you can't have that prerequisite swim test, and you can't afford the $200-plus certification course, that deters people as well."
Wooddell said he hopes to offer free certification courses at the Oxford Aquatic Center. The aquatic center currently has many younger lifeguards, but relatively few returning employees who are over the age of 18 and have the maturity to be a supervisor, he said.
"We work to make it a fun place to be," Wooddell said. "And word of mouth among teenagers will spread fast enough to say, 'hey maybe I want to work there too because all my friends are working there. They're having fun.'"