Miami hockey freshman Red Savage continues family dynasty
Red Savage, who just finished his freshman season on the Miami University hockey team, may end up on the ice with the Detroit Red Wings before it's time for him to graduate. 
Red, short for Redmond, grew up surrounded by hockey. The 18-year-old forward has an older brother, Ryan, who is a junior on Miami's team. He also has a younger brother, Rory, who is in 8th grade. All three boys are hockey players.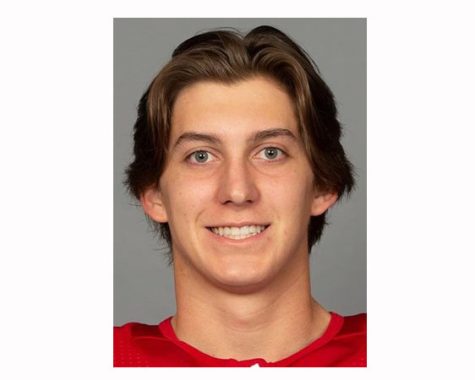 His father, Brian Savage, a Miami alumnus, was drafted in 1991 by the Montreal Canadiens in the 8th round, 171st overall. He played 14 seasons in the National Hockey League as a forward with Montreal, Phoenix Coyotes, St. Louis Blues, and Philadelphia Flyers.
Red has always looked up to his father and has viewed him as a role model. Savage was born in Scottsdale, Arizona on May 15, 2003. The Savage family lived there until their father got traded to Philadelphia in 2005. 
Brian retired at the end of the 2006 season, and the family moved back to Brian's hometown in Sudbury, Ontario until the frigid winter began. Then they moved back to Scottsdale where Savage played for the Phoenix Junior Coyotes. 
In 2016, the Savage family decided to move to Austria for one year. There, Savage was able to play for Red Bull Academy in Salzburg.
"I was very blessed to have had the opportunity to spend a year in Austria," Savage said. "It was such a thrilling experience that I will cherish for the rest of my life."
After one year in Austria, the Savage family debated where the best place to move would be for the three boys to develop as hockey players. They decided to move to Northville, Michigan where Red played for the Belle Tire Bantam 13U minor and then the Detroit Compuware Bantam 14U and 16U major teams. 
Hockey programs in Michigan are known to be some of the best in the country. Therefore, the move to Michigan helped Savage continue to grow as a player. 
In 2019, Savage tried out for the National Team Development Program in Plymouth, Michigan and made the team for those born in 2003. This two-year program selects the top players in the country to further develop their talent and skill, and prepares them for the next steps in their hockey careers. 
"Although the program was a lot of long days and hard work, it was the best two years of my life," Savage said. 
After playing hockey for the National Team, Savage felt confident going into college as a freshman to play Division 1 hockey. He said he was excited to continue his father's legacy and have the opportunity to play on the same team as his brother. 
"Nothing compares to being on the ice with my brother," he said of older brother and teammate Ryan. "I am so proud of the player and person he is becoming." 
Ryan said he and Red have always been very competitive with each other. They pushed each other to be better players. They both took that drive and determination with them to college. Ryan emphasized that he always knew Red was a special player and is excited to see what the future holds for him. 
The Savage boys could potentially leave Miami the same year. If the Detroit Red Wings reach out to Red after his sophomore year, then he will leave school and take the opportunity to play professionally. He will still be given the chance to finish his degree when he is done playing hockey if he chooses to. 
This season, Savage averaged 20 minutes playing time per game for the RedHawks, scoring 16 points in 35 games. Most teammates are in their early 20s; Red is only 18. 
Savage said he has made many lifelong friends at Miami and has a very strong relationship with his coach, Chris Bergeron. 
One of Savage's best friends, Brian Silver, speaks highly of Savage. 
"Even though Red is the youngest guy on the team, many players look up to him," Silver said, "not just because of his talent on the ice, but because of his character as a person." 
Silver said he believes Savage has the passion to go all the way in this sport. He sees how hard Savage works in the gym and on the ice. Savage still has a lot of work to be done, but there is not a doubt in Silver's mind that Savage will put on a Detroit Red Wings jersey one day. 
Red Savage said that draft day last year was a day that he will remember for forever. With the draft being virtual due to COVID-19, the Savages gathered with family members at their home where they watched it unfold on TV. 
"I'll never forget when I saw my name pop up on the TV under Detroit Red Wings," Savage said. "It was definitely a very special moment for my family and myself."
He was drafted in the 4th round, the 114th pick overall. Savage knows that in order to play in the NHL he is going to have to continue to put in the work and stay motivated. He has a goal in mind to achieve.