Blue Cocktails fundraiser raises thousands for progressive PAC
State and local Democratic candidates spoke at a "Blue Cocktails" fundraiser in Oxford  Friday that raised $15,000 for the Butler County Progressive Political Action Committee and the county Democratic Party.
"So many things are on the line," said Sam Lawrence, a Miami University student and Democratic candidate running to unseat state Rep. Sara Carruthers, R-Hamilton, in Ohio's 47th House District, which includes Oxford. "It's never been this crucial to get out there and vote."
The Butler County Democratic Party will finance "get out the vote" drives with its portion of the money raised at the Blue Cocktails fundraiser at Church Street Social.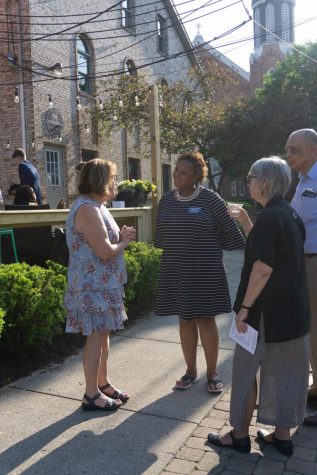 The Butler County Progressive PAC will donate its half of the proceeds to endorsed Democratic federal, state and local candidates' campaigns. Founding president Don Daiker said the group also contacts voters to share information about the campaigns and the importance of voting.
"Our participation is crucial," Daiker said. "I think the more people engaged in the voting process, the more democratic a unit, a state, a city is."
Featured speaker Nan Whaley, former mayor of the City of Dayton and Democratic nominee for governor of Ohio, also emphasized the importance of widespread voter participation.
"We're a democracy and a democracy is only as strong as the number of people in it," she said. 
"Our whole agenda is a workers first agenda," Whaley said, at one point eliciting an "amen" from the audience. "Our message is, we want folks' pay to go up, bills to go down, and the government to finally work for you."
Jeff Crossman, candidate for Ohio Attorney General, said he was also concerned with improving Ohioan's quality of life.
"I've been all over the state and it's really disheartening to see people talk about 'hey, that's where the jobs used to be,'" Crossman said. 
Crossman said he works on behalf of the people– rather than the corporations– in the state.
"The issues to me in Ohio are not Democrat versus Republican; they're not right versus left; they're right versus wrong and I'm always going to fight for what's right," Crossman said.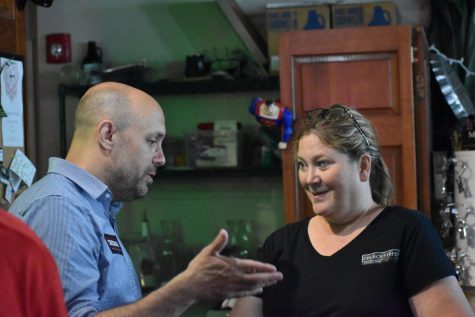 Vanessa Enoch, of West Chester, is the Democratic nominee for the United States House of Representatives, 8th District, which includes Oxford. She is running to replace incumbent Rep. Warren Davidson, R-Troy, who was endorsed by former president Donald Trump. Enoch said she wants to prioritize affordable healthcare options for workers and families. 
"We need to make sure that we are putting people in office that can pay attention to what's going on and that can meet the needs of the people as they change and those needs arise," Enoch said. "I'm excited about my race despite the fact that we've been re-gerrymandered because I have the opportunity to carry a message to people closer to home."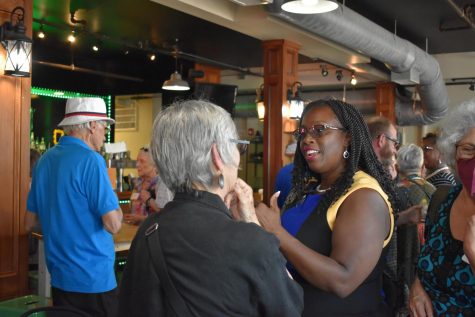 The fundraiser also welcomed local candidate Latisha Hazell for Butler County Commissioner; state candidates Judge Marilyn Zayas and Judge Terri Jamison, both running for Ohio Supreme Court; and Chelsea Clark for Ohio Secretary of State.
Lawrence predicted the Democratic Party's chances to be good in the upcoming November election.
"You can tell we're doing it different this year," Lawrence said. "I understand people might say that every year, but the reason is the candidates are connected through each other and we have a very good relationship."
Church Street Social owner Ann Kamphaus set out hors d'oeuvres, including pretzels with beer cheese and a charcuterie board. Jars of blue candies held onto balloons floating at the center of each table.
Tickets sold for $50 and included a drink from Church Street Social's bar. 
Donors contributed through four levels of sponsorship, giving $125 to be a Bronze host, $250 for Silver, $500 for Gold and $1000 for Platinum.