Miami softball team closes in on championship game
Miami University's softball team beat Bowling Green 4-1 in the Mid-American Conference (MAC) Quarterfinals Thursday, May 12. The win brings the defending MAC champions one step closer to the MAC Championship game, which will be Saturday, May 14. 
After the team's slow start, sophomore outfielder Kate Kobayashi started off the fifth inning with a double that hit the outfield wall. Up next, senior catcher Riley Coyne hit a homerun over the wall in left field.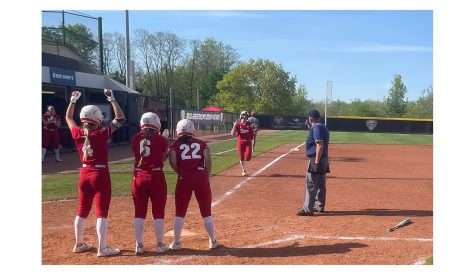 "Kate was the one who had to be on base. She also had an amazing game. I was just working on staying on top of the ball, no matter where it was, and it felt good," Coyne said about her homerun. "I was really happy. I knew my team was super excited." 
Later in the inning, sophomore third baseman Karli Spaid hit another home run, making the score 3-0. Both teams scored in the sixth inning. 
Miami senior pitcher Brianna Pratt didn't allow an earned run, as Bowling Green's only run came on an error. Pratt pitched all seven innings and allowed six hits in the win, bringing her record to 16-4 this year. 
Miami is hosting all games for the MAC tournament, as it ended the season as the first-ranked team in the conference. Ohio University is second, Central Michigan University is third and Bowling Green is fourth. Central Michigan beat OU 7-1 earlier on Thursday. 
"We have the offense and the pitching and the defense. If we just do what we do well, then we will be okay, but it will be tough," Miami Head Coach Kirin Kumar said. "Everyone's going to be playing their best ball right now, and we're the ones with the bullseye on our back."
At 1 p.m. Friday, OU will face Bowling Green and at 3:30 p.m., Miami will face Central Michigan. If Miami wins, the team will play in the MAC championship game at 3 p.m.  Saturday. 
The tournament is double elimination, so if Miami loses, the team still has a chance of making it to the championship. It would have to beat the winner of the OU and Bowling Green game. All the teams in the tournament beat Miami during the regular season. 
The winner of the MAC championship will automatically qualify for the NCAA Division 1 Softball Tournament. According to the NCAA, of the 64 teams that will qualify, 32 automatically qualify and the rest are chosen by a selection committee. The MAC champion will play its first game in the NCAA tournament May 19.