Talawanda tennis battles for SWOC top spot
The Talawanda High School boys tennis team lost the match and the hold on the top spot in the Southwest Ohio Conference (SWOC) with a 3-2 loss to the Harrison High School Wildcats April 28.
For the second consecutive match, the Brave were forced to mix and match their lineups in both singles and doubles matches due to illness. 
Against Harrison, Jake Clawson played first singles, Milo Flashpoler stepped up to play second singles and Max Kelly shifted to third singles. On the doubles side, Adien Bruder and Bryce James led first doubles, with Brave teammates Jade Ney with Dean Craddick playing second doubles. 
The Brave won their first and second singles matches two sets to one. But Harrison's Ken Saxon won 2-0 in the third singles match and the Wildcats swept both doubles matches to take home the victory. Winning Wildcat doubles teams featured Mike Nieman and Seth Hopkins alongside Josh Moore and Grant Bischoff.  
Craddick, a sophomore who usually plays first singles on junior varsity for the Brave, advanced to varsity to grow his game.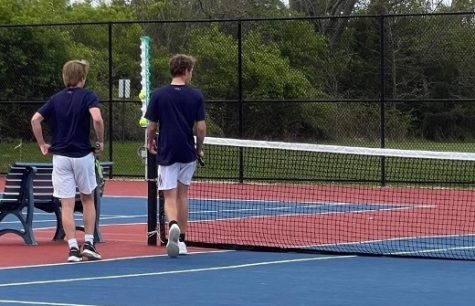 "I think I played well, adjusted well, and I enjoyed it. Both opponents hit great cross court shots and I had trouble adapting" said Craddick. 
With the win, Harrison moved its record to 3-1 in conference play and 6-4 overall. Talawanda fell to 3-1 in the conference and 7-7 overall.
Talawanda tennis has faced its fair share of challenges this season, from player illness to weather delays and cancellations. 
"In 15 years, I have never played this little games, and even the ones we do play the weather is dismal," said Head Coach Pete Thomas. 
The Brave wrap up their regular season schedule at home May 6 versus Lebanon High School.