RedHawks lose opener in 250th Battle of the Bricks
The Miami RedHawks baseball team opened its 250th series against Battle of the Bricks rival Ohio University with a 7-3 loss April 29. With a home crowd of 388 fans on hand at McKie Field, the RedHawks struggled in what has been an up and down season.
Miami dropped the series opener to a Bobcats team that came through when needed, especially with two outs. 
The RedHawks committed two errors and walked eight batters, while the Bobcats didn't allow any free base runners.
"We just played bad baseball today, we've got a talented enough group of guys to go out and compete with anybody every game. We just have to be better," RedHawks Head Coach Danny Hayden said.
The Bobcats were led by senior starting pitcher Edward Kutt IV, who controlled the game with seven strikeouts in seven innings pitched. 
Ohio's lineup was paced by outfielder Spencer Harbert, who went 4-5 with two doubles, and infielder Michael Richardson, whose seventh inning two-run home run blew the game open.
The RedHawks added two in the bottom half of the same inning on a two-out single from freshman center fielder Zach MacDonald, but didn't have enough firepower to complete the comeback. Sophomore right fielder Benji Brokemond went 2-4 with a run scored.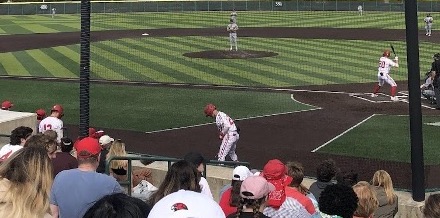 It was the first time the RedHawks hosted the Bobcats since 2018. The teams played each other in Athens in 2019 and 2021, and COVID-19 canceled the matchup in 2020. Last weekend's matchup was the home debut for most players in the historic rivalry.
"Not the result we were looking for, especially against our rival, but I just wanted to go out there and compete and give my team a chance to get back in this game," freshman pitcher Ryan Starr said. Starr threw four plus innings in relief, the longest outing in his young career.
Miami (19-26, 14-17 Mid-American Conference (MAC)) will look to get hot as they begin the last month of the regular season. The RedHawks sit in seventh place in the MAC standings with only the top six qualifying for postseason play.
The RedHawks will take a short break from MAC action, traveling to Champaign, Illinois to take on the University of Illinois in a three-game series starting May 6. 
Miami won't play again at McKie Field until the final series of the year, hosting Ball State beginning May 19.