Local family starts microgreen company
Snowflakes begin to make their way down from the sky on a cold morning in April. You'd think that few vendors would brave the biting wind to be at the Oxford Farmers Market in Ohio to sell to a chilly number of customers.
But some vendors are here on this day. Dean Scales, his wife Emily Savage and their 10-year-old daughter, Bonnie, wearing an owl-shaped knitted hat, huddle together behind their table for warmth. Emily clutches a warm cup of coffee as the hot steam dances in the wind. They operate Bonnie Gean's Micro Greens.
A customer approaches, money already in hand. He's no amateur, and he quickly buys pea and sunflower microgreens. Dean had overstuffed the container, so he warned the customer to eat them quickly to preserve their shelf life. 
That's what this family has spent the last weeks toiling to grow: small microgreens, designed to cram as many nutrients and flavor into the thin leaves as possible. 
Dean, 42, said it was Bonnie – make that Bonnie Gean – who came up with the idea to grow micro greens, so the business was named after her.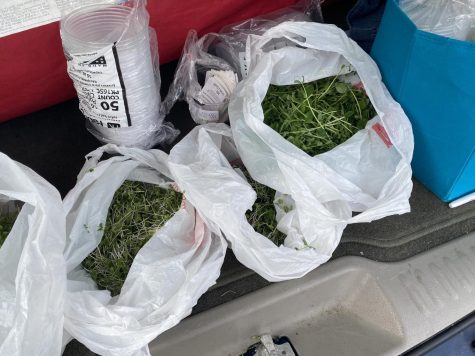 "I'm really horrible about eating my greens," Dean said. "(Bonnie) had seen (microgreens) and she's like, 'well Daddy won't you eat your greens?' And so, we actually tried them, grew them a little bit and tried them and thought they were amazing."
The family quickly realized everyone could benefit from the nutritional value of microgreens. 
"So, as we were talking about it, well we're like 'we can put these in everybody's hands,'" Dean said. "And so, we gave it a shot, started growing and it's a really easy growing process, so we're able to get it out to the market and up to the grocery stores." 
Microgreens are small shoots of vegetables packed with valuable nutrients. Dean said one ounce of his radish plant has the same nutritional value as 40 ounces of typical radish. Depending on the variety, micro greens can contain the nutrients vitamin C, vitamin E, vitamin K and vitamin A, according to the U.S. Department of Agriculture. 
However, microgreens are more than just a helpful fuel for an informed consumer. Dean says micro greens are especially helpful for cancer patients. 
"And so [cancer patients] can't get a lot of food into their bodies, but they need to get the nutrients in their body, so these really help with being able to get all [those] nutrients without all the extra food goin' in," he said. 
It helps that the microgreens also have tons of flavor. Emily said she liked the radish variety.
"It's dazzling good," she says. "The pepper kicks in." 
Yet, what makes this side hustle even more special isn't just the microgreens or even the extra money that comes in. Dean says he just loves to spend time with his family.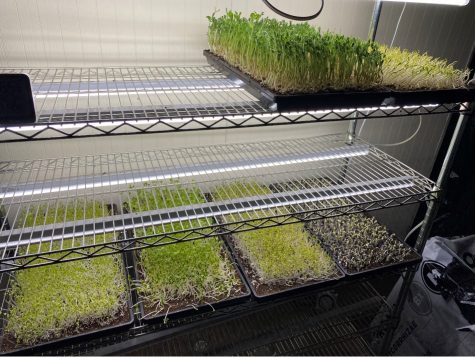 "We get to hang out every Saturday. I guarantee I get some time with my family, my wife and all that every Saturday morning," he says. "(Bonnie's) been absolutely amazing with doing research and probably has turned into the best salesman we got."
That doesn't mean growing microgreens is easy. 
Dean, Emily and Bonnie grow their plants in the basement of their new, still unfinished house in Okeana, 40 minutes from Oxford. Stacks of small green buds grow in their trays in the dark room, lit up by the large lamps that replace sunlight. The microgreens are so strong that they can often push off the heavy weights placed on them to mimic the ground. But it's common for the seeds not to grow.
"We fail all the time," says Dean. "If you miss half a day, you basically missed a good 20% of the growth cycle and you can end up failing real quick on it."
Microgreens require constant attention. That's not always possible, with Dean working as a district manager for Pizza Hut while helping Emily homeschool Bonnie.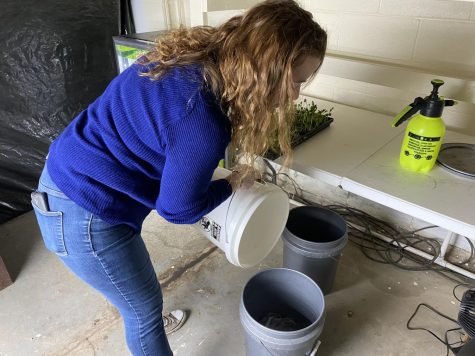 "It takes a lot of effort and time to grow microgreens, and get it the right way you like it," Bonnie said. 
It doesn't help that the market for microgreens is highly competitive and unstable. Only small businesses such as Oxford's MOON Co-Op will buy microgreens due to their incredibly short shelf life. According to Microgreens Farmer, the plants fail easily from temperature fluctuations and cold. That's why the delicate plants require the constant attention of farmer entrepreneurs like this family.
"We've seen, y'know, like 80 Acres [Farms], they did a good product," Dean said about the booming Hamilton, Ohio, agribusiness. "But there's a difference between a good product and an excellent product. And the excellent sells and the good kinda falls to the wayside."
And the family never knows what kind of turnout they'll get at the farmers market. 
"We took a hit in the summer when kids aren't in school," Emily said. 
Anyone could become a rival in the microgreen market. The growth of indoor farming and awareness of public health have led to a huge demand for micro greens, therefore a rise in producers, according to market research group imarc. 
"There's always a competitor. As soon as you start to hold a market, somebody else is gonna jump in on that market," Dean said.
But, the family loves what they do, so they'll be at Oxford Farmers Market every Saturday.