Talawanda lacrosse sends off seniors with win over Madeira
The Talawanda Brave lacrosse team sent its seniors out on a high note, defeating Madeira High School 16-6 on April 26. 
Before the game, the team honored seniors Nick Engelhard, Jack McKinley, John Nelson and Gunnar Von Bergen. 
"I'm just happy to send the seniors off on a win…I think tonight the seniors and team made sure that we went out on this field on our own terms," said Head Coach Sawyer Johnson. 
Von Bergen had four goals and one assist in his home finale. "The game went really well. I think we thought it was pretty evenly matched going into it based on both of our records," said Von Bergen.
In the first quarter, the Brave took a 4-2 lead thanks in part to two goals from junior Jonathan Hall. The visiting Mustangs struck back to tie the game at 5-5 at halftime.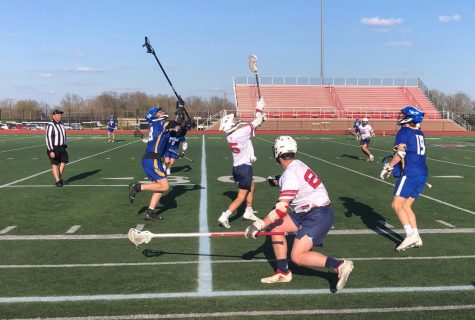 With Goalie Craig Catania making crucial saves, the Braves managed to shut out the Mustangs in the third quarter. Offensively, sophomore Sam Olenick contributed three goals during the same quarter allowing Talawanda to take the lead. 
Nick Engelhard, who just recently returned from injury, helped run the attack while also providing two goals. "We were just firing on all cylinders tonight. Making passes, making catches, and important goals," Engelhard said after the win. 
Senior Jack McKinley was limited in his playing time also due to injury but he helped keep the energy up on the sideline. "I think everyone working as a team and trusting each other was a big thing," said McKinley. 
Talawanda's overall record stands at 3-10. The Brave next travel to Cincinnati to take on Seven Hills Saturday, April 30.