RedHawks players hope to be drafted to the NFL
Miami football defensive end Dominique "Dom" Robinson is projected to be selected in rounds three or four of this year's NFL Draft after an impressive showing at the NFL combine, according to NFL.com.
The draft began Thursday, April 28. Rounds two and three begin at 7 p.m. Friday. Following rounds will be held Saturday beginning at noon. Live coverage can be found on ESPN, NFL Network and ABC. 
Robinson completed 25 reps in the bench press event, and his 4.72-second 40-yard dash was .02 seconds faster than Michigan's Aidan Hutchinson, who before the combine was projected by many to go first overall in this year's draft. Additionally, Robinson was listed 74 on ESPN senior writer Jeff Legwold's top 100 draft prospects.
Robinson came to Miami as an under-recruited quarterback from Canton McKinley High School in Canton, Ohio. According to defensive coordinator Bill Brechin, after quickly transitioning to wide receiver early in his time at Miami, Robinson made the switch to the defensive line after the 2019 season.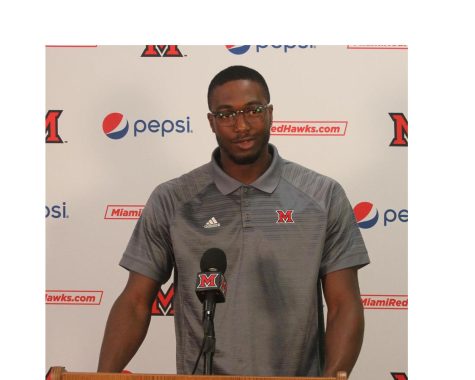 "We actually recruited Dom because we saw him on the basketball court," Brechin said. "He was doing some freakish things like dunking, so we recruited him as a quarterback initially, then he moved to the wide receiver room, played wide receiver for about a year and a half for us and then his last two seasons decided he wanted to play defense and become a defensive end."
Former Miami Defensive Line Coach E.J. Whitlow, who is now coaching defensive ends at the United States Air Force Academy,  worked with Robinson on the defensive line during his time at Miami. He said Robinson showed deep dedication to understanding his position, and he was meticulous in his preparation in all aspects of the game both on and off the field.
Additionally, Whitlow explained how Robinson changed his body type from that preferred for an offensive skill position to the size needed for a defensive line position. He did this while maintaining the speed and athletic ability that were required of a wide receiver, and his former coach believes this is one of the many things that make him an elite prospect.
While he is still newer to playing on the defensive side of the football, both coaches Brechin and Whitlow said they are confident in Robinson's ability to succeed at the next level because of his transition to the defensive line later in his career.
"The one advantage he has over guys that have only been D-line their whole lives or their whole careers, is that he has a good ability to play in space, which obviously at the next level is going to work to his advantage," Whitlow said. "Being able to drop into coverage, understand the defenses. Just because he was on the offensive side of the ball, his understanding of the game will be really high."
Another Miami Redhawk and NFL Draft prospect is Sterling Weatherford, who was recruited from Hamilton Heights High School, near Indianapolis. Brechin said Weatherford was recruited because of what the Miami coaches saw in his talent and athleticism on the basketball court, like Robinson.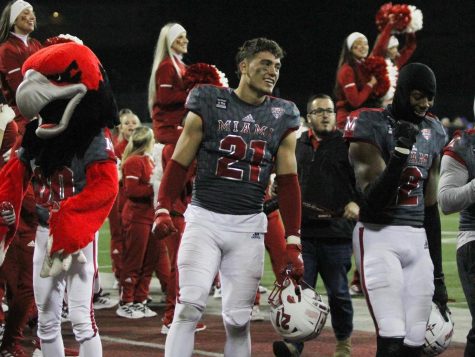 "I think the reason you draft Sterling Weatherford is obviously the athletic ability, and I think based on my conversations with some scouts and NFL coaches, it's his multi-positional ability," said Brechin. "Some people are looking at him at safety, some people are looking at him at linebacker because of his size."
Brechin compares Weatherford's work ethic and ability to change positions to that of Robinson.   
"(The NFL) wants guys who understand big picture football and because of his preparation and how smart he (Weatherford) is, he gives himself the chance to play in any system, he is going to take the time to understand it," Brechin said.
Brechin said he wants to make sure that everyone knows that the things that stand out about these two potential future NFL players the most, is the type of people that they are.
"I think what often gets overlooked with student athletes is who they are as people," Brechin said. "Those are two of the best people you will ever meet in your life, and I say this to anybody I meet, to anybody that asks about those two guys. I say I would do anything for those guys because they would do anything for me. They make you want to be a better person."