RedHawks baseball team gets revenge against Indiana
The Miami RedHawks baseball team hosted Indiana University at McKie Field April 19, hoping to erase the memory of a 15-2 loss to the Hoosiers on March 1. The RedHawks not only erased those memories, but created some momentum heading into the weekend, following a 9-7 victory over their opponent from the Big Ten.
Indiana (13-22) struck early, scoring three runs in the top of the first against RedHawks starting pitcher Michael Spinozzi. The early deficit  did not seem to bother the home team, as leadoff hitter Benji Brokemond saw the plate twice in the first frame, tallying a walk and a triple that bookended a seven hit, seven run inning for the RedHawks.
"Coming off of a down weekend losing our last two games of the four game series (against Western Michigan), it was important to come out and play good baseball today," said Miami Head Coach Danny Hayden. "It will give our guys confidence coming down the stretch, not just because they beat a good team, but because they played really good baseball."
Top to bottom, the RedHawks performed well. After an error on a potential double play ball in the top of the first, graduate transfer William Escala made several dazzling plays at shortstop, helping offset early pitching struggles.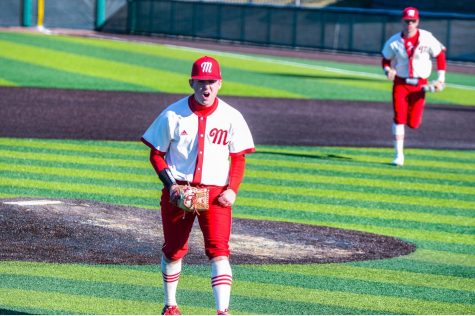 Spinozzi settled in after a rough three-run start to earn his first win of the year. Relief pitcher Luke Leverton managed to get out of a bases-loaded jam with only one out in the fifth inning. Southpaw Brady McLean was then brought in to stop a dangerous Hoosier lineup.
McLean put on "his best performance in a Miami uniform," said Hayden, striking out five batters in two and a third innings pitched. Reliever Patrick Mastrian IV picked up his third save of the season.
"I threw probably the best I have and had great teammates, great guys supporting me which was great," said McLean.
Offensively, Miami was led by a trio of RedHawks. Redshirt sophomore Benji Brokemond went 2-for-3 with a triple, two runs scored and two RBI. Freshman Zach MacDonald reached base three times, scoring two runs. Infielder Brian Zapp went 2-for-4 with a double, a run scored, two RBI and a stolen base.
With the win, the RedHawks improve to 15-21 (10-13 MAC) on the season. Miami returns to Mid-American Conference action April 23 traveling to Kent State (13-18, 8-10 MAC) to take on the Golden Flashes in a four game series.