Talawanda track invitational shatters meet records
History was made at Talawanda High School April 18 when three track meet records were broken during the Dale Plank Invitational. The overall team victory also gave both the Brave boys and girls track and field teams their first invitational wins of the season. 
Among the athletes who broke school records were senior Logan Murray with a time of 9:58.23 in the 3200 meter race, freshmen Lucia Rodbro who ran a time of 5:22.08 in the 1600 meters and junior Henry Hoblitzell who cleared 13 feet, 10 inches in the pole vault. 
"Three meet records is awesome," Talawanda Head Coach Brad Hoblitzell said. "It's always nice when you put a meet record at your home meet, and you're taking it away from someone who wasn't your school." All three previous records were set by visiting athletes during the Dale Plank Invitational.
The girls team rallied after trailing in team points to Badin High School, Valley View High School and Ross High School to start the meet. Strong performances from its distance runners helped the Brave take the overall top spot with 182.5 points. Valley View finished second with 132 team points and Edgewood High School third with 99 team points. 
Freshman distance runner Lucia Rodbro was a difference maker for the Brave, leading the 1600 meter race from start to finish while lapping three of her opponents along the way and finishing 26 seconds ahead of Badin High School's, Abby Matthews. Rodbro's time of 5:22.08 was both a school record and a personal best of the season.
"I just kept telling myself that I wanted to get the best time, and it was gonna pay off if I just push myself more now," Rodbro said. "I just stayed focused and made sure I wasn't zoning out." 
Senior Hannah Lippincott helped add 10 more points to the girls' total, finishing first in the 3200 meters with a time of 11.27.77.
On the boys' side, it was a tight fight to the finish. A hailstorm at the beginning of the 800 meter race left athletes frazzled but determined to win. 
Logan Murray's school record in the 3200 meters provided the boys team some cushion. "I was like I just wanna break 10 (minutes) today," Murray said. "It had hailed like five minutes ago, so I was like I'm just doing what I can. I'm gonna do my best and whatever happens, happens.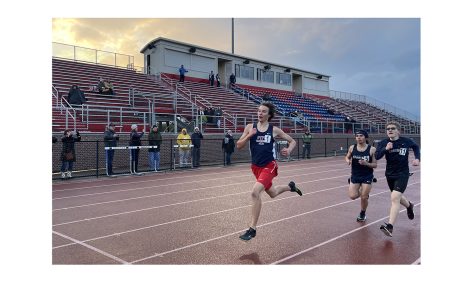 At the start of the 4×400 meter relay, the boys trailed Valley View by 14 points, leaving athletes and coaches to wait out results from field events including triple jump, pole vault and final relay results to find out if the team had pulled off the win.
The Brave 1600 meter relay team's third place finish with a time of 3:53:51, provided the results needed to secure the overall team win with 146 points. Valley View was a close second with 139 points and Edgewood a distant third with 99 team points. 
The Brave team has a small window for rest before their next competition on the road at the Eaton High School Invite April 23rd.