Brave softball falls short in first conference loss of season

Ashley Meece's go-ahead RBI single in the sixth inning and Maddie Summers' complete game helped lift the Little Miami Panthers over the Talawanda Brave 5-3, April 12 at Talawanda High School. 
The win gives Little Miami (6-3, 4-1 ECC) three straight victories. Talawanda (7-2, 6-1 SWOC) has dropped two of its last three games after starting the year on a six-game winning streak.
"We made mistakes tonight," Talawanda Head Coach Scott Davie said. "We had an opportunity to defensively make some plays that I know these girls can make routinely, and that didn't happen consistently."
Little Miami got on the scoreboard in its third at-bat, when senior Lauren Holt slammed a two-run home run over the center field fence, scoring  junior Anna Trimble. It was Holt's fourth bomb of the year, tying her for the Eastern Cincinnati Conference lead.
Talawanda answered with a pair of runs in the bottom of the fourth inning. Senior Madie Patton scored on an errant throw to second base during a McKenna Weekly steal attempt from first. 
Weekly added another run during a Molly Van Gorden rundown between first and second following a steal attempt. The sophomore stayed alive long enough on the base path for Weekly to reach home from third.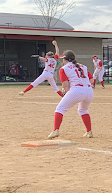 Little Miami tallied its go-ahead runs in the top of the sixth after Talawanda starter Kylie Cobb issued three walks to the first four Little Miami batters. Meece's two out single scored Langley Lundt from third, breaking the tie.
Junior Brooke Bronner helped add two more Panther runs on a line drive up the middle for an RBI double that brought home both Meece and Trimble to make it 5-2.
After holding Little Miami scoreless in the top of the 7th inning, Talawanda squeaked one run across in the bottom half of the frame. Junior Halee McDade placed an RBI single to right, sending Kaelyn Wright home and putting Lilly Iden on second. 
Two at-bats later, Madie Patton singled to center field. Iden attempted to score from second but was tagged out at the plate after a strong throw from Trimble, the Panthers' center fielder, to end the game. 
"I loved the fight from the kids. There was obviously no quit, especially in the seventh inning. That was a coaching mistake trying to send Iden home," Davie said. "We trust her speed in that situation. It was a good play by her. (Trimble)"
"There were definitely some plays we should have made," Iden said. "We have to take things we did wrong and learn from that."
Summers collected the win after allowing 11 hits. It was her third complete game of the season.

"I liked how we had each other's backs no matter what," Iden said. "The energy was up the whole time. I really appreciate that out of my teammates."
Up next for Talawanda: Road games at Edgewood High School April 15 and Eaton High School April 16.