Bookmobile brings resources to elementary schools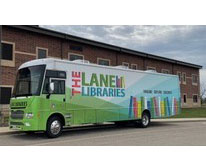 Once a month, Lane Library's bookmobile visits each of Talawanda School District's three elementary schools. The bookmobile is a miniature library on wheels that allows students the opportunity to borrow a book from their local library without having to travel.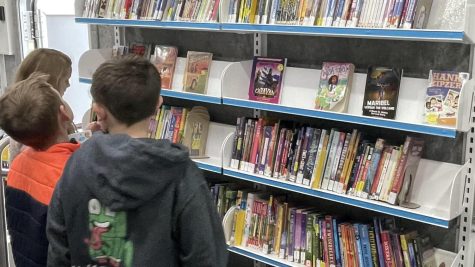 Fran Meyer, manager of bookmobile and outreach services for Lane Libraries, said that the goal of the bookmobile is to provide access to library services for people who may not otherwise have them. 
Through visits to Talawanda School District's elementary schools at the start of the year, Meyer said the staff learned that about half of the students hadn't been to a library before and did not know that libraries let students check out books for free. 
"We kind of treat this as a way to get them excited about books, but also kind of a civic education about what libraries are," Meyer said. "But the thing is that [the books aren't] yours to keep forever…you have to return it and so we're kind of trying to build that responsibility."
Students in all elementary school grades are allowed to utilize the bookmobile for 20 minutes at a time with their classmates. Students then have one month to enjoy the book before it is due back to the library. 
Whatever grade they are in equates to how many books they can borrow at a time, Meyer said. Additionally, once students reach fourth grade, they are also allowed to begin checking out audiobooks. Meyer said that students of all ages are enthusiastic about boarding the bookmobile.
"It's always kind of fun to shop when you know you don't have to pay for anything, so that's kind of exciting," Meyer said. 
Jackie Chasteen is a third grade teacher at Marshall Elementary. She said that when her students get their books, they are usually very excited to start reading them. Chasteen allows time after bookmobile visits for students to look at their books and discuss their selections with their classmates.
"Seeing kids get so excited over reading just gives me this immense sense of pride and lets me kind of know that I'm instilling a love of reading in them," Chasteen said. "I couldn't be happier when we have bookmobile days."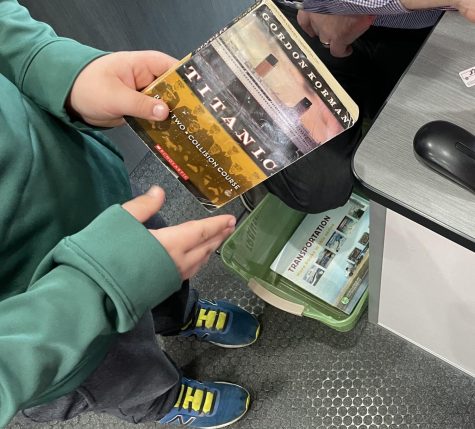 Chasteen said that the bookmobile services are very convenient for the students as they don't have to depend on their families going to the library building to have access to interesting reading materials. Instead, parents simply fill out a form at the start of the school year to register their students for a library card and they can then use the bookmobile. 
"I send home the application, parents fill it out and their child automatically has a library card," Chasteen said. "I also think [this] gives our students a lot of ownership."
Chasteen said that she thinks the novelty of a moving library also makes the bookmobile more exciting and that the staff that operates the mobile library is phenomenal. 
The bookmobile travels with two circulation assistants at all times. The assistants take into account what books a particular grade may be interested in before the students come on board.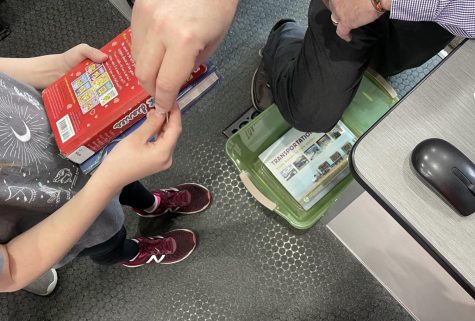 Meyer said that the ratio of librarians to students is helpful as librarians can easily spot when they can't find what they are looking for or may need additional assistance.
"It's kind of helping them connect with, oh you know, librarians are friendly, and I do have a friend at the Oxford library," Meyer said. "Hopefully we're providing that level of introduction and personalization so it's not overwhelming when they go to the big Oxford library."
On Tuesday, April 5 the bookmobile stopped by Bogan Elementary along with circulation assistants Rabbit Giraud and Mike Busam.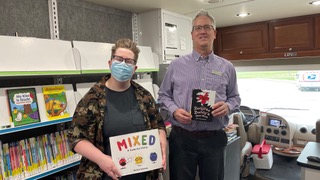 Busam and Giraud said that some books are more popular than others. Some of the most popular choices over the years include graphic novels, Guinness world record books, American Girl Doll books and horror books. 
"We also get kids who want to hear about World War II. That's a really popular one, weirdly," Giraud said. "People don't give them credit for wanting to know about the world."
Giraud said that their favorite part of the job is finding the right book for the right child, even if the requests are very specific. Busam said that when kids come onto the Bookmobile, along with trying to help them find books, he focuses on communicating with them. 
"If you just treat them with respect like the people they are and you just ask them, 'how's it going'…they will start telling you stories," Busam said.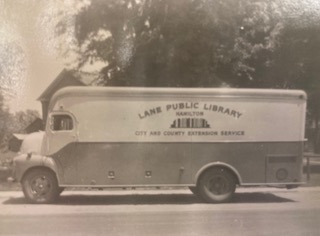 The bookmobile has been in operation since 1938, but its mission has always been the same: to make library services more accessible. Meyer said that the current bookmobile vehicle is only a few years old. In the past two years, the bookmobile added printing services so that other visitors would have the ability to print without traveling to a library building. 
In addition to visiting Talawanda schools, the bookmobile also visits other school districts and stations itself in public places within local communities. 
"Sometimes kids are excited to see the bookmobile in their community that they've seen at school; they're excited to show their parents," Meyers said. "If we can even meet a small percentage of kids and keep them excited about reading, I feel like that's the win."