Actor Sean Astin advocates for mental health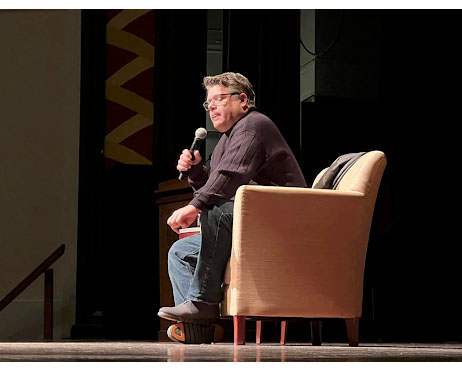 Actor, producer and mental health advocate Sean Astin advocated for the de-stigmatization of mental illness by recounting his upbringing with his mother in Miami's University Lecture Series' final talk for the 2021-22 academic year Monday.
Astin, most recently prominent for his role on Netflix's "Stranger Things" series, is also renowned for his roles as Samwise Gamgee in Peter Jackson's "Lord of the Rings" trilogy (2001-2003) and the titular character of the 1993 film "Rudy." The audience gathered at Miami's Hall Auditorium responded particularly well to the moments when Astin slipped into Gamgee's European accent to deliver memorable lines from Jackson's films.
Although the name of his talk, "I Can Carry You," invokes an iconic line delivered by Astin in the final "Lord of the Rings" film, Astin was deliberate in his desire to keep the evening's conversation free of hobbits. He focused instead on the experiences of his mother Patty Duke, another iconic figure in the American entertainment industry.
The Oscar-winning actress was diagnosed with bipolar disorder in the mid-1980s, a period in which she was raising a young Astin and his siblings. His memory of this period served as a reference point that allowed him to consider the change in attitude over his lifetime toward mental illness. Patty Duke died in 2016.
"When my mother was diagnosed in the '80s, her fear was that she would be put in a straitjacket or a padded room or have electric shock therapy," Astin said. "It's a lot better now. There's a CVS on every corner where you can pick up the medication you need."
The candid vulnerability through which Astin framed his speech was an essential part of the conversation for him. He spoke plainly about his tumultuous upbringing and his strained relationship with Duke, often infusing humor into the intensity of the subject matter. 
Despite the difficulty of the topic, he said, it was the general ability to speak forthrightly about it that catalyzed positive change, both culturally and institutionally.
"The need for support has always been there," Astin said, "and because of the proliferation of the conversation, the marketplace has grown tremendously. People are now used to seeing commercials on television about anxiety medications. The compassion of young professionals in the field that I've interacted with is so much more obvious than, in my experience with [my mother], it used to be."
Astin still sees "destigmatize" as a verb in the present tense, citing room to improve the support systems of those suffering, but much of his talk was dedicated to lauding the forward strides of a movement toward humility and sensitivity. For someone going through what his mother went through, he noted, the frameworks are much healthier.
"Everyone gets paralyzed when they realize they've got an issue," Astin said. "Imagine if the person is totally willing to come up with a wellness strategy for themselves. Now what? There are incredible resources available, and there's something about knowing that it's out there that can give people a lot of confidence."
Astin noted the importance of these support systems in his own field of work. He emphasized that in his experience, the levity of mental health is recognized unreservedly in the entertainment industry as an essential part of daily operation. 
"With crews who work longer hours where the work is more physically intensive, it's still the same: people have needs," he said. "When you talk about healthcare, there is no misunderstanding whatsoever when it comes to making sure mental health services are non-negotiable. It's in the interest of productions to make sure your people are getting the care that they need."
Astin ended his lecture by adopting the perspective of Samwise Gamgee, falling into the persona a final time to recite a familiar line that he felt summarized his feelings on the importance of looking for help in difficult moments. 
"In the end, it's only a passing thing, this shadow," he said to the delight of the audience. "Even darkness must pass. A new day will come, and when the sun shines, it will shine out the clearer."