Tennis brings Colombian student to Miami
Before most teens learn to drive, Laura Rico was on the path to a professional tennis career.
By the age of 16, Rico was ranked number one in her home country of Colombia. A year later, she was ranked number one in South America. By age 18, she was competing in two major tournaments, the U.S. Open Junior Grand Slam and the Roland Garros (French Open) Junior Grand Slam.
In 2018, her dedication to the sport was beginning to bear fruit, but by the end of that same year the financial expense of international competition would mean Rico had to step away from the junior tennis circuit for good.
"It was sad, I cried a lot," Rico said.
Growing up in Bogota, Colombia, Rico's parents made sure that she and her older sister were involved in some kind of activity. Her father, an avid tennis player, especially encouraged both to play a sport.
Following that fatherly advice, Rico chose swimming and tennis. By 8, she was good enough for both the tennis team and the swim team. However, the practice times conflicted with each other forcing Rico to choose one sport.
"I didn't know what to choose," Rico said. "So, I asked my dad and he said, 'Go for tennis."
As Rico quickly improved, what started as a hobby became much more. Rico trained and played with Academia Rincón Tenis in Bogota. During this time, Rico traveled throughout South America earning two medals in the South American Youth Games.
Her success brought her to Europe, where she competed in tournaments in Italy, Belgium, and France.
Later, The University of Oklahoma offered her a tennis scholarship. During her first few months in Norman, Oklahoma, she continued on the junior circuit, playing the U.S. Open and the Roland Garros Junior Grand Slams.
Rico's experience at the famed Roland Garros in Paris was one she will never forget.
"Ever since I began playing tennis I told myself, 'I need to play that tournament,'" Rico said.  "So, when I stepped on the court I was thinking, 'Damn I worked for this, I have been playing for this my whole life.'"
But the financial costs associated with traveling the junior circuit began to stack up. In Colombia, most youth athletes receive no financial support from the government or athletic organizations. 
Rico had hoped to take one year to try and transition to the professional level, but without financial support, the cost became too much for her family, ending her dream of playing at the professional level.
"It's very sad just thinking about how much potential Colombia is losing in sports because they don't want to help us," Rico said.
At the same time, she was having a difficult first year at Oklahoma, struggling to settle into her new life as a student-athlete far from home. That's when she decided to enter the NCAA transfer portal, where Miami head coach Ricardo Rosas found her.
 In her first full season with the RedHawks in 2021, Rico quickly adjusted to another new environment and excelled. With a record of 33-8, Rico was named the Mid-American Conference Women's Player of the Year.
Now, she is the leader of a team she has always wanted to be a part of – an encouraging and accepting team.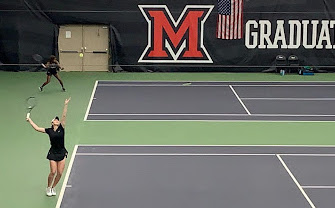 "Sometimes I love to put on Spanish music and just dance or sing really loud," Rico said. "My old team would look at me funny when I did this, but here, we all want to know each other's cultures and support each other."
Freshman teammate Makensie Long, echoes Rico's assessment of the tightly-knit dynamic within Miami's tennis program.
"Here, the tennis team is like a family, and Rico really talks about the importance of family to her," Long said.
As one of only two seniors on a team full of freshmen, Rico stands out as a leader for the younger players. Rico hopes she sets an example for her team that shows the strong work ethic needed to compete at the collegiate level.
Having experienced a long and winding transition to college life, Rico also hopes to be there emotionally for the younger players who are struggling to adjust themselves to the rigors of being a student-athlete.
"She is so sweet and easy to talk to, she is like my second mom. I go to her for everything. If I have an issue with class or a question about campus I always go to her," Long said.
After the 2019 season was canceled due to COVID, the college athletes were granted another year of eligibility. Rico has decided to use the additional scholarship year to stay at Miami and work towards her master's degree in graphic design. 
"Tennis has given me this very special set of tools," Rico said, "The struggles of being a student-athlete keep me going by giving me the mentality and discipline to prove to everyone and especially myself that I can do this."