Talawanda runs through rain to early home victory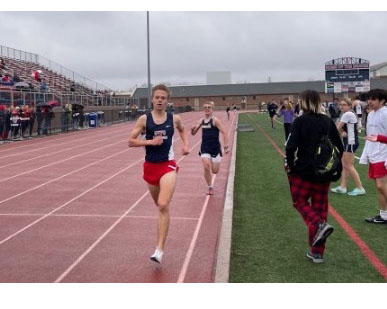 Battling cold wet weather throughout the meet, the Talawanda Brave Track & Field team claimed victory during an early season matchup April 6, at home against Monroe High School. 
The weather was a brisk 45 degrees with rain clouds overhead, water on the track and few fans in the stands. Still, the weather was no match for the hungry Brave team. 
"They performed better than I expected," said Talawanda Head Distance Coach Brad Mills. "My only expectation was that they have fun, and they race, and they improve from the time trial that we ran about a month ago, and I think they've improved, and they've had a lot of fun."
The team was without some of its top distance runners, including Hannah Lippincott and Logan Murray, due to a coach's decision to rest them following a competition five days earlier at Edgewood High School. Resting Lippincott and Murray created opportunities for their younger teammates, including several junior varsity athletes. 
With the team missing some of its talent on the distance side, sophomore Shemari Green knew it was time to step up. 
Stepping into her blocks, she recited "Breathe. Push. Win," and "win" was the right word.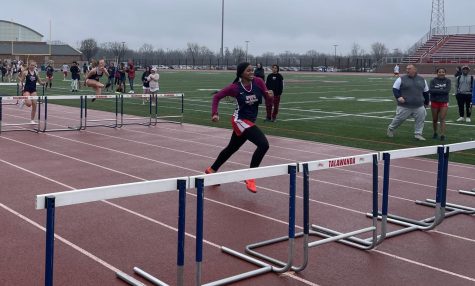 Green soared down the track to win the 100-meter hurdles with a time of 16.97 seconds, crossing the finish line with no other runners in sight. 
"I got in my zone, and I was like I'm just gonna run, and I was trying my best," Green said. 
Green is a transfer from Lakota West where she broke two high school records as a seventh grader. She is looking to improve her times, after taking a two-year break from running due to COVID-19. She also ran in the 100-meter dash and 4X100-meter relay, where her team took first place overall, with a time of 55.4 seconds. 
On the boys' side, Jacob Farmer secured a first place finish in the mile, but it didn't come without a fight. 
At the start of the 1600-meter race, Farmer took a lead over his opponent, and maintained it through the first three laps. As the pair started their final lap, Farmer was passed. In the final 100 meters, Farmer put his chin up, pumped his arms, and with a smile on his face won the race with a time of 5:16.1.
"I decided to just calm down a little and play it safe and in the last lap just finish the race," Farmer said. 
In field events, the Brave also saw strong performances from Kaydence Morris, finishing in first place in triple jump with a jump of 31 feet, 6.5 inches, and Hannah Hoblitzell coming in first place in the shot put. Noah Femiani also won the pole vault with a jump of nine feet.
The Brave has its next competition on the road at Eaton High School, April 12.