Representatives from sister city Differdange, Luxembourg to visit Oxford
Representatives from Oxford's sister city, Differdange, Luxembourg, will visit Oxford from Sunday, April 3 through Tuesday, April 5. This is the first visit representatives from either city will make to the other since the COVID-19 pandemic began. 
Six Differdange representatives will be present for the visit: Mayor Christiane Brassel-Rausch, Chief Alderman Tom Ulveling, dean of the International School Gérard Zens and his wife, Zen's assistant Elisabeth Da Silva and Communal Secretary Carole Friedrich.
The delegation will spend a couple of days in Holmes County's Amish Country before arriving in Oxford Sunday evening. 
"These visits allow the communities to get to know each other and have rewarding exchanges,"  Oxford City Manager Doug Elliott said. "We exchange ideas and develop relationships with our international partner. We get to know their culture and they get to know ours."
On Monday morning, Elliott and Assistant City Manager Jessica Greene will give the delegation a tour of Oxford. Enjoy Oxford will then host a lunch for the delegation. Their afternoon will be spent walking the Oxford Area Trail System and visiting shops Uptown. In the evening, Pickle and Pig, which is usually closed on Mondays, will host a reception from 5 p.m. to 7:30 p.m., Elliott said. 
On Tuesday morning, the delegation will receive a tour of Miami University before joining Miami President Gregory Crawford for a lunch in Roudebush Hall. The delegation will then join Crawford for several meetings in the afternoon. 
On Tuesday evening, Oxford City Council will meet at 7:30 p.m. in the Butler County Court House, where it will recognize the Differdange delegation with a proclamation. Oxford Mayor Bill Snavely has taught at the Miami University John E. Dolibois European Center (MUDEC) in Differdange and thinks the relationship between Oxford and Differdange is very important. 
"It's for intercultural understanding. It's for reaching across the divide of the ocean to form relationships and solve problems. We can learn from people in other countries," Snavely said.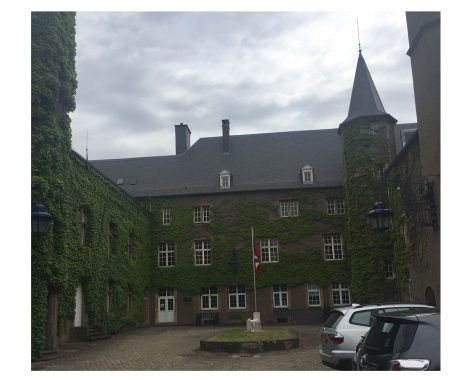 In May 2017, Elliot and then-Oxford Councillor Edna Southard visited Differdange. It was there that they toured Differdange's aquatic center, which gave them ideas for Oxford's new aquatic center that opened in 2019. They also toured an industrial complex that had been turned into a business center, which helped to spark the College at Elm project, the city manager said. 
Sister Cities International was founded in 1956 at President Dwight Eisenhower's White House summit on citizen diplomacy. 
"Two deeply-held convictions unite us in common purpose. First, is our belief in effective and responsive local government as a principal bulwark of freedom. Second, is our faith in the great promise of people-to-people and sister city affiliations in helping build the solid structure of world peace," Eisenhower said at that summit. 
Toledo, Ohio and Toledo, Spain have the oldest documented sister city relationship recognized by Sister Cities International. The cities signed a document in 1931 making their relationship official. 
Cincinnati has had a sister city relationship with Kharkiv, Ukraine, since 1989. Kharkiv has been under bombardment by Russian troops for several weeks during the war there. On March 2, Cincinnati City Council passed a resolution supporting Ukraine's defense of its sovereignty against the Russian attack. 
Oxford and Differdange became sister cities in February of 2017. They signed an agreement in both English and French at the Oxford Lane Library. Elliot said this relationship formed, largely because of the relationship Miami already had with Differdange through the Dolibois Center. 
MUDEC was founded in Luxembourg in 1968 but was not moved to the City of Differdange until 1997. It was around this time Snavely approached the Differdange government, proposing a partnership, although nothing came to fruition then. 
Differdange now has multiple sister cities. It will be hosting all of them in late June for a sister cities celebration. Snavely, his wife and Elliott will be attending. 
"Of course, with the situation in Ukraine, I think it really makes a lot of sense for communities to exchange ideas and develop friendships and relationships so that we can work to further peace, which is what President Eisenhower had in mind," Elliott said.