Spring spurs return to Oxford's various outdoor spaces
Between Hueston Woods State Park, city and county parks and miles of trails around Oxford, residents have plenty of space around to walk, hike, run or just get outdoors now that winter weather should soon pass. 
Oxford and Miami are surrounded by miles of maintained trails that can accommodate those who want to walk, hike, bike, run or just mosey along with a dog. 
The ongoing Oxford Area Trails System (OATS) has been on the city's Comprehensive Plan since 2008. Every year it extends a little farther and is envisioned to eventually stretch more than 12 miles around the city and will connect to the 17 miles of trails and paths that weave through Miami's campus.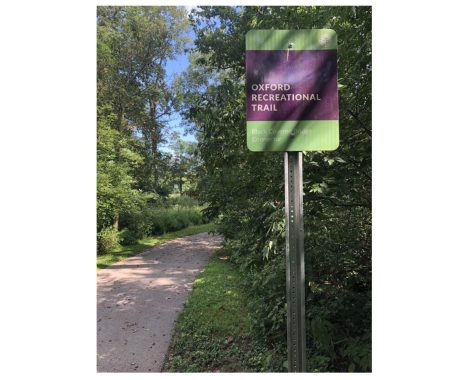 Along the trails there are plenty of spots for those who enjoy putting a worm on a hook and standing in silence. Keiler Shockley has lived in Oxford his whole life and says he loves spending time on the Black Covered Bridge trail, which is part of OATS.
"By the Black Covered Bridge . . . I like the water, you can walk up and down the creek," said Shockley. "I do a lot of fishing myself and I like that area. There are some pretty deep spots, you could even swim if you please, but I skip rocks, I do what I want, I fish and I just get to chill out with nature."
For those wanting to take a short drive to start a hike, Hueston Woods State Park is just about five miles away and has many trailheads to choose from. 
Hueston Woods manager Kathryn Connors, who previously worked as a naturalist, is passionate about the park and providing opportunities to get outside to interact with nature now that spring is here.
"Hiking right now, in the spring, is a really big thing for folks who come out," Connors said. "The forest is already getting covered with wildflowers. It's a great time for spring migration of birds, so we have a lot of bird watchers coming out and all other sorts of different activities, not only in the woods but also around the lake and just giving people a place to get out and stretch their legs a little bit."
Connors said she hopes people will take advantage of this free-to-enter park. She noted that information about the park's countless activities and events can be found on the Hueston Woods Facebook page. These programs, such as the April 16 spring wildflower hike, don't cost anything to the public.
"Hueston Woods is definitely the park of opportunity," Connors said. "I challenge people sometimes to tell us what we don't have."