Business fraternity appoints new executive director at Oxford headquarters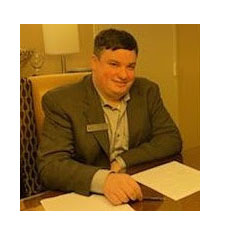 Delta Sigma Pi, the national professional business fraternity headquartered in Oxford, has hired Jeremy Levine as its new executive director, effective immediately. Levine succeeds Bill Schilling, who retired after 26 years of service.
Delta Sigma Pi has 224 active collegiate chapters and seven colonies, as well as 57 active alumni chapters, with more than 295,000 initiated members, according to its web site. 
As executive director, Levine will manage, execute, communicate and coordinate the daily operations of the international fraternity and its associated Leadership Foundation. Levine has been serving as interim executive director since July 1, 2021, while a formal search for a new executive director was conducted.
"I am eager and excited to continue working to ensure that Delta Sigma Pi continues to grow and develop our future business leaders of tomorrow," Levine said in a press release.
The fraternity, which has included women since 1975, was founded at New York University in 1907. It moved its central offices to Oxford in 1957 and is now located at 330 S. Campus Ave. Levine joined the organization as an undergraduate at Albion College in Michigan. He joined the central office staff in 2010.