Live performances return as the pandemic eases
Live theater is back.
After the COVID-19 pandemic forced theater audiences to stay home for much of the past two years, live performances are once again coming to the stage in Oxford.
The pandemic made performing, specifically live theater or opera that involved singing, difficult to participate in. Because singing spread the virus more rapidly, musicals and operas had to be conducted through Zoom or were canceled. Audiences also were wary of sitting shoulder to shoulder in theaters and auditoriums, not to mention having to endure the discomfort of a face mask while trying to enjoy a show.
Given that students at Miami participate in theater productions to gain experience for the future, the pandemic impacted college theater productions even more.
"Theater, innately, is a collaborative act," said Lindsey Mercer, director of Miami Theater Department's upcoming production of "Head Over Heels."
 "We were all forced to be separate for so long. But it also took away opportunities for students to exercise their craft in important ways that normally would be part of their curriculum."
Miami's theater department had to cancel its spring musical, "Cabaret," in 2021, breaking the traditional bi-yearly musical performance schedule. 
"I had my whole audition song and everything," fourth-year student Taylor Yaeck said. "I have loved ('Cabaret') for a long time and wanted to be in it since getting into musical theater." 
"All this being said, I am ecstatic that we are doing 'Head Over Heels,'" Yaeck said. "Once I listened to the score, read the script and dove into the story's narratives, I realized the beauty in the stories it tells. As a queer, non-binary human, it is extremely comforting to see these stories come to life, especially the experience of getting to see a non-binary body represented on stage."
Some of the music theater minors at Miami felt pressure to get cast in the musical during their senior year. The minor requires a musical performance credit. 
"Though the credit can be applied if you work on any aspect of the musical — whether that be on or off stage — there was that implied pressure for those who did want to be involved on stage," Yaeck said. "I felt secure in the fact that I would be able to get my credit and complete the minor, but I was definitely fearful of the idea that I wouldn't be able to get it for the area I wanted to."
"Head Over Heels" is a jukebox musical – meaning it features some well-known popular songs –  that combines Shakespeare vernacular with music from the Go-Go's. The show's energy is what Mercer said they believe makes it the perfect comeback musical.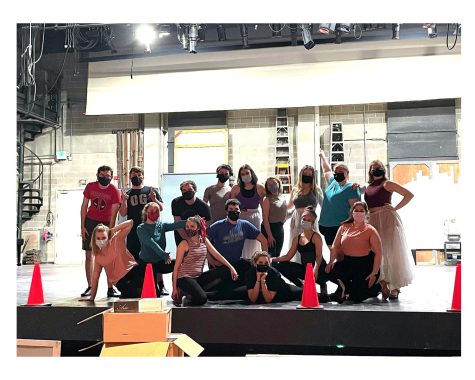 "It's a really bubbly, exciting show," they said. "I think that coming out of a few really challenging years, the theater department really wanted to present an opportunity — both for its students and for anybody who came to see the show — to let loose, and laugh, and dance and feel liberated by this upbeat music and funny plotline."
Mercer also believes that this musical can provoke a newfound openness in communication, as the show openly addresses sexuality and gender-fluidity.
"(The musical) delivers a really meaningful message about acceptance and inclusivity, and self-discovery and forgiveness," they said. "Given all the social revolution that happened alongside the pandemic, I think it's the perfect piece to come back into — to ease people in by laughing and dancing and enjoying themselves but then to also start processing material that has that message."
"Head Over Heels" opens 7:30 p.m., April 20, in the Gates-Abegglen Theatre of Miami's Center for Performing Arts at 420 S. Patterson Ave. Performances run through April 24. 
The Miami University Opera Theater similarly returned to live performance after their Fall 2021 production "Hydrogen Jukebox" had to be released exclusively as a feature film, made temporarily available through streaming. 
Their recent production of "The Light in the Piazza," which ran between Feb. 16 and 19, marked the first time in two years that one of its stars, Ellie Wilmes, performed in front of an audience.
Working without a live audience was dispiriting for Wilmes. "The only response you would get while you performed was the director behind the camera saying 'okay, that's great!'" she said. "Going from that to having a crowd that laughs at the lines you also think are funny, it gives you that energy you need to feel like things are really working out."
To Wilmes and the rest of the Opera Theater's cast, COVID-19 was a "looming gray cloud that just kind of sat there" throughout the semester, posing a threat to their chances at a true return to live performance.
"It was terrifying," Wilmes said. "Our only backup plan was to do it with masks on in individual scenes. That would have been terrible, because we spent so long practicing it as one fluid production."
During the pandemic, Mercer took a similar approach to the Opera Theater, working with theater students on a play that was shown virtually. They enjoyed their experience so much that they didn't hesitate to tackle the biggest musical they have ever directed. 
Even though live theater performances were hard to execute through a virtual platform, there were some positive aspects that came out of the experience. 
"Zoom theater will never be the same thing as live theater, but it was a really creative and new way to look at what we do," Mercer said. "One of the best things that it brought to the table and reminded everybody is that you can work with anyone anywhere in the world right now, at any time. It opened us up to collaborative possibilities."
Fourth-year student Ryn Bondi said that although she was eager to get back to live performances, the online experience was still enriching to her studies.
"It was rewarding to be able to tell stories and share theater and arts experiences with people, no matter where they were," Bondi said. "It also meant that friends and family who may not have been able to come in person were able to watch the livestream from their respective location."
Mercer said she hopes the upcoming production of "Head Over Heels" will challenge audiences to be more eager to learn, to grow and to be more understanding.  
"I hope that they take away at least one favorite moment in the show that makes them laugh every day for the next week, or a song they can't get out of their head for a while," Mercer said. "Leave the theater more open to accepting perspectives that you don't understand, or that you might not have heard of. Just approaching them with gentility and openness and being a little bit kinder to our fellow humans."