Talawanda track team starts season with interim coach, young talent
Coming off a strong performance last year, Talawanda Brave track & field teams start competing in late March and expect to compete for Southwest Ohio Conference titles in May. 
In February, the team welcomed new interim head coach Brad Hoblitzell. Hoblitzell previously coached track for five years, and football for 27.
Hoblitzell said he knew when accepting the job, that the coaching staff, as well as the talent levels of the team, would set the Brave up for success.
"I think I'm excited to see if both the boys and girls can win SWOC, I mean that's the No. 1 goal … we compete in one of the toughest track regions in the state of Ohio, so that would be a huge accomplishment," Hoblitzell said.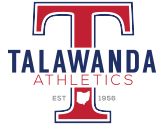 The girls' team is coming off a strong 2021 spring season, producing good results in distance events. They managed a 15- point margin win over their five opponents, leading to a SWOC title and now look to reclaim the title for the fourth year in a row. 
The boys are hoping to bounce back after a disappointing 24-point loss to Edgewood in the 2021 SWOC championship. This year's title win would be their first in five years.
If both teams are to capture SWOC track titles, they will have to rely on a young roster filled with mostly underclassmen after graduating 14 seniors in 2021.
The teams will see the return of seniors Eva Motta, Logan Murray and Hannah Lippincott on the track. Lippincott's 1600 meter time of  5:20:79 was second best last year in the conference, while her 3200 meter time of 11:47:55 was good enough to also place second in the SWOC. Lippincott was named the SWOC girls track Athlete of the Year in 2021. 
Teammate Eva Motta, whose time of 12:29:52 in the conference was the third best of the season, said the team needs to aim to rekindle the cohesion seen in previous years to be successful. 
"We just need to support each other and make sure everyone feels welcome." Motta said. "I think right now since it's so new everyone's kind of a little separated. Hopefully as the season moves on, we'll come together." 
Motta is coming off an injury to her femur last year that impacted her training. She is optimistic that she can prove that she is still a strong contender of the conference. 
"My biggest individual goal would probably be to break 12 (minutes) in the two-mile. I'm bad at getting really nervous before races and psyching myself out so that'll be something I need to work on," Motta said. 
Talawanda's dominance in distance events will only carry the team so far. The Brave says it also recognizes a need for its sprinting group to improve, as well as for athletes to begin branching out to other areas around the track. 
Henry Hoblitzell is a junior pole vaulter and son of the coach, said his main attention this season is overcoming  mid-season fatigue and stepping up for his team by training in long jump and sprinting. 
"I just feel like I need to do more for my team because generally in the past I've been guaranteed like eight to 10 points from pole vaulting, but I want to be able to do more," Henry Hoblitzell said. 
Lippincott said something as simple as working on relay handoffs could make the difference in the team's level of success this season. "Relay handoffs, even when it comes to the 4×8 have been difficult, so I think just working on those this year would help," she said. 
On the boy's side, the track team returns senior Kiefer Bell who was named to the 2021 SWOC first team in 800 and 1600 meters. Three-fourths of the 2021 all conference 3200 meter relay team is also expected back this season.  Bell was also named 2021 SWOC boys track Athlete of the Year in 2021.
Coming off a 2021 season with COVID-19 still lingering, athletes experienced a season filled with uncertainty and anxiety. 
"It definitely had a big impact," runner Logan Murray said. "It took a huge toll on last year where there was always a question of is something going to happen to cancel the meet, or is the team going to get COVID?"  
"I'm really excited, personally, to see what kind of culture we can create, in bringing kids together and trying to really form a team and create a culture of courage and encouragement to push them to be their best selves both on, and off the track," coach Brad Hoblitzell said. 
The team's season officially begins March 26, in a meet at SWOC rival Harrison High School. The Brave will host the Dale Plank Invitational at Talawanda High School April 18. The SWOC championships are scheduled for May 10. The team's full roster can be found here.