Talawanda softball seeks to claim the SWOC title
After its most successful season in the Southwest Ohio Conference era, Talawanda High School's softball team expects to be deep in the hunt for its first-ever Southwest Ohio Conference title this spring. 
Several impact players will hit the diamond once again, in addition to head coach Scott Davie returning for his fourth season.
Talawanda is coming off a 2021 campaign that produced a first-round playoff exit to Fairfield in extra innings on May 10. The Brave registered their best offensive season in school history, batting .394 as a team. 
Talawanda finished second in the SWOC behind a three-way tie for the league title between Edgewood, Harrison and Ross. The Brave notched a 15-12 overall record and 9-6 conference mark. 
Talawanda beat each team tied for the conference championship once last season.
"It was disappointing," Davie said. "We would have liked more success last year."
The team will see the return of senior pitcher Rachel Dsuban and junior catcher Lilly Iden in the upcoming season. 
Last year, Dsuban notched eight home runs and 42 RBIs. Both are now Talawanda single-season records.
"Softball has always been my home away from home," Dsuban said. "I've always had the best time of my life with any team I've played on." 
Iden batted .469 as a sophomore and sees the Brave performing well in all aspects of the game, especially offensively and on the mound. 
"I don't see one teammate standing out. Everyone will contribute," Iden said.
 Madie Patton, a senior transfer from South Lyon, Michigan, will also make contributions in her Brave debut season, Davie said.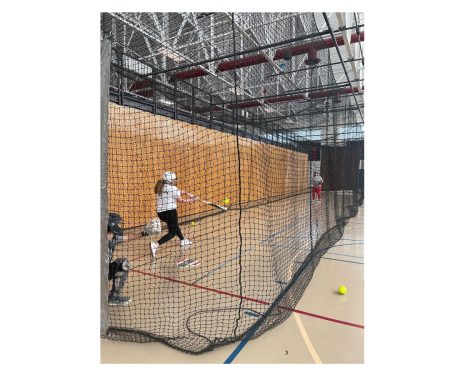 Talawanda graduated four seniors last year, including two pitchers. Senior Jillian Berger batted a SWOC-best .615, while senior Sophie Pierce logged a 3.32 ERA to lead the Brave in 2021.
"A lot of strong fielders are coming back," Dsuban said. "Hitting is going to be great. We only lost a few good hitters last year." 
This season, Davie's assistant coaches will be Caitlyn Calhoun, Alex Foster and Lori Oberlitner. 
Talawanda players are working four days per week this winter to prepare for the season's beginning in March. 
Davie is optimistic about his team's chances in the SWOC, citing key pitching losses with Edgewood, and a new coach at Ross. Harrison will return most of its players from last seasons' successful run, challenging Talawanda's title hopes.
"Everyone here wants to put up a banner," Davie said. "We should win in league play."
Davie says improvement is most likely on the pitching front, as last year's staff arrives with more experience. 
"We were young on the mound last year," Davie said. "We have more physical and mental conditioning this time around."
Davie's main challenge will be configuring the most competitive lineup on the field with the amount of talent his team holds. 
"This is the deepest roster I've ever had," Davie said. "Every player can compete. So, it's going to be about how well we can put this puzzle together."
Talawanda's season begins with a home doubleheader March 26 featuring games against Seton and Waynesville. The Brave will play its normal 15-game SWOC slate this season, beginning the conference schedule with Northwest  March 28. Talawanda will see non-conference opponents Hamilton, Beavercreek, Eaton, and Colerain for consecutive seasons. The Brave will play Badin, Oak Hills, Seton, and Waynesville for the first time under Davie. Talawanda closes out its regular season with Edgewood  May 6.
All games begin at 5 p.m. unless otherwise noted.