Talawanda lacrosse team preps for 2022 season
The Talawanda Brave lacrosse team kicks off the season officially March 28, with its first game at home against rival Edgewood High School. 
The Brave will play 15 opponents throughout the regular season. Last year, the Division II team went 10-4 in the regular season but lost in the playoffs by one goal against Seven Hills High School. 
"As a team, it was really a good season last year," said Gunnar Von Bergen, a senior attack player on the team. 
Von Bergen has been playing for Talawanda since his freshman year. He said the team needs to work toward having fewer dropped balls leading to turnovers, moving the ball faster and opening up more on the field. Along with Von Bergen, the team has quite a few returning players this year with the addition of some new players as well. 
Sawyer Johnson will be the head coach for the first time, accompanied by assistant coaches, Tommy Winkler and Jack Tincher. Winkler will be the offensive and attack coach while Tincher will handle the face-offs and midfield. The entire coaching staff are Talawanda alumni, and both assistant coaches played for the lacrosse team.
Johnson graduated from Talawanda in 2012 and went on to play football for Centre College in Kentucky. He is on the teaching staff at the high school and is an assistant coach for the football and wrestling team. Johnson previously served as an assistant coach for the lacrosse team, from 2017 to 2020.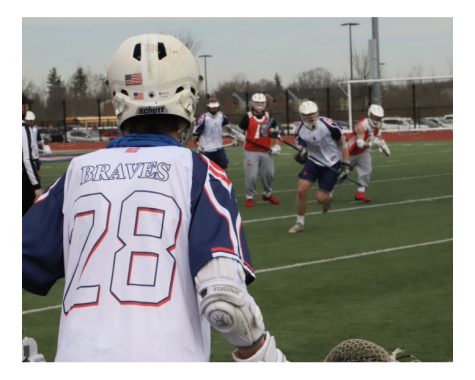 "I want us to be competitive, hopefully having a winning record. I want everyone to leave this program better than when they entered…and then I want to make a run in the postseason," Johnson said, commenting on the team's goals. 
Senior Jack McKinley has been playing lacrosse since middle school. His goal is to unite the team this spring while making a run in the playoffs, McKinley said. "[We need to] become a team first and then we can start winning because if we have a lot of team problems, we're not going to be able to win later on." 
In addition to lacrosse, McKinley has played hockey for eight years and said the sports complement each other. 
"You have to have pride in your sport…as a lacrosse player you have to carry yourself like a lacrosse player. Be proud and really show how this team is a good addition and important [to] Talawanda," McKinley said. 
Goalie Craig Catania is a junior this year and hopes to take on more responsibility as an upperclassman. He became a goalie in sixth grade, which was an easy transition from his previous position as a catcher while playing baseball.
"There is just something when you are in a game, and you see it and you make the shot or make the save, and everyone [starts] cheering, and you feel that accomplishment," Catania said.
Sam Olenick is a sophomore, but has been playing lacrosse since he was 7-years-old. "I'd like to shift to more of an offensive player than a specialized defense player," said Olenick.
He said he specifically enjoys when the team is practicing where to play on the field and they learn everyone's personal preferences, so that they can start predicting each other's movements. Olenick said he expects Beavercreek and Seven Hills to be the teams' biggest challenges because of how close the games were last season. 
As the team gears up for the new season the players said they want to work on team building in the coming weeks. On their own time, the team will meet to practice taking shots, master their stick work, and work out in the gym together. Players said they feel as if this team is a family and that there is a strong sense of belonging. The team hopes this year they can expand their fanbase and watch it grow even more in the coming years.