Revamped Miami baseball coaching staff hopes to return to winning ways
Miami University RedHawk baseball is looking to bounce back this year after a disappointing 2021 season, finishing with a 25-31 overall record (18-22 Mid-American Conference). 
The team is led by a mix of returning players and transfers and is anticipating the debut of multiple freshmen. The pitching staff is focused on filling the void left by three pitchers who signed major league contracts and accounted for nearly 85% of the innings pitched last season. 
This year's team features returning pitchers Jonathan Brand and Kenten Egbert, both juniors, and senior Michael Spinozzi.
The offense looks to improve on the 4.3 runs per game from the 2021 season. The lineup includes the familiar faces of redshirt sophomores Benji Brokemond and Nate Stone, as well as senior Nick Neibauer. 
"We underperformed a year ago, and we fell way short of the expectations. It's as hungry a group that we've had," Neibauer said. "You can't get comfortable and have to control what you can control every single day at practice." 
The team has a revamped coaching staff with head coach Danny Hayden adding three new assistants: Bailey Montgomery, Jeff Opalweski and Kyle Weldon. Hayden called all three coaches "relatable" and "credible." All the RedHawk players are buying into the process, he said.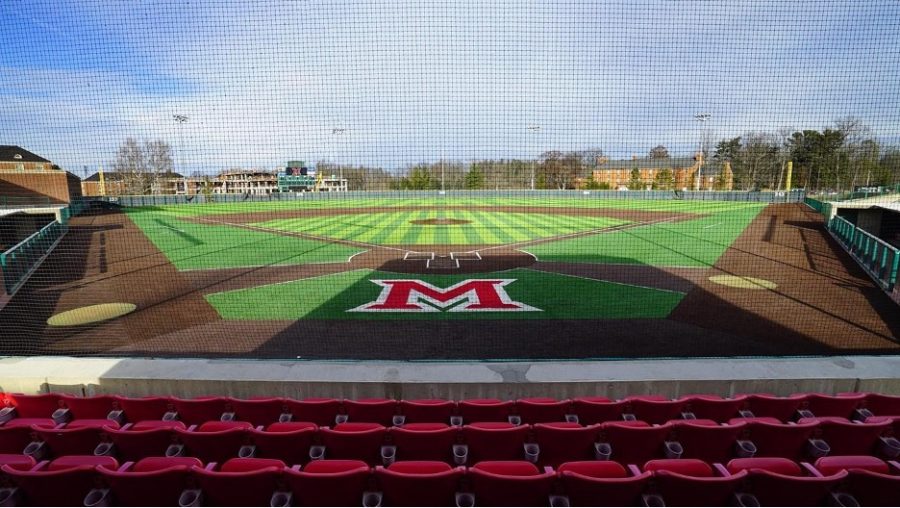 Hayden enters his seventh year leading the RedHawks. He has an 101-94 all-time MAC record and has developed the Miami team into a consistent threat to compete for the MAC title.
"A concern with a young and new coaching staff is the potential lack of respect and communication between players and coaches," said Hayden. 
"Eighteen to 22-year-olds are going to make you earn it," Hayden said. "These guys take themselves seriously so they're not just going to listen to anybody who comes in with an idea. Seeing how quickly the buy-in has happened and how these guys have proven their competency for coaching for our guys has been really cool."
Bringing in new coaches can be especially challenging for returning upperclassmen, but senior Michael Spinozzi credits the new coaching staff with creating a new environment, both on and off the field. The team's chemistry is being redefined, he said.
"They are building this atmosphere that we are going to get our work done, but we also are going to have fun while doing it," Spinozzi said. "I think that's translated a lot into our lives, especially on the field." 
In 2019, the RedHawks saw great success on the field, with Coach Hayden leading the team to a 37-19 record. Since then, the team has struggled to regain its form. The RedHawks went 33-38 the past two seasons, including a 15 game-season canceled due to COVID-19 in 2020. 
The team is hopeful that its combination of experience and youth will get it back into their 2019 season shape, said the coach. Hayden reiterated that he wasn't fazed by the coaches' poll that had Miami picked to finish sixth in an eleven team conference, its lowest ranking in the last five seasons. 
"We have to get one percent better every day," Hayden said.  "That way, we are playing our best baseball in May." 
The 2022 season opened Feb. 18 at University of Tennessee-Martin, with Miami taking two of three games. The team will open at home Saturday, Feb. 26, with a doubleheader against Rider University. 
The RedHawks open MAC play March 11, when they host Bowling Green. That series is followed by a three game set against Central Michigan, the defending MAC champions. 
"It'll be an important homestand for us, we're opening up at home for the first MAC series and I think that it's important for us to start out strong and set us up for the rest of the season," Spinozzi said. 
 Miami's revamped coaching staff:
| | | |
| --- | --- | --- |
| Danny Hayden | Head Coach | In his seventh season at the helm, the former RedHawk catcher looks to continue to improve on his MAC record of 83-72 this season. |
| Bailey Montgomery | Assistant Coach | Montgomery comes in as the new hitting coach, most recently serving as the assistant head coach at Butler University. |
| Kyle Weldon | Assistant Coach | Weldon, a Miami alum, most recently served as the Mason High School hitting coach, as well as being the co-founder of ALPHA baseball. |
| Jeff Opalweski | Assistant Coach | Opalweski returns to the MAC, where he played his baseball at Central Michigan. He most recently worked with players down at IMG Academy.  |