OCAC hosts sentimental comedy theater production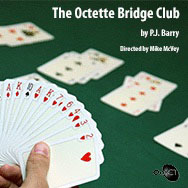 The Oxford Area Community Theater will perform "The Octette Bridge Club" this weekend and next weekend at the Oxford Community Art Center. Friday and Saturday shows are at 7:30 p.m.,  and Sunday shows are at 2 p.m.
In this comedic play, eight sisters play bridge and gossip every alternate Friday evening. 
The first act's set begins in 1934, and the second act picks up 10 years later. The play highlights the difficulties of the sisters' lives as they grow older.
Tickets are $15 with a $1.74 service fee. They are available for purchase online, by phone or at the door.