Federal free at-home COVID-19 tests reach area homes
Some Butler County residents report they are now receiving the free at-home COVID-19 tests from the federal government.
As of Jan. 14, the Biden administration has offered every American household access to request a maximum of four at-home COVID-19 tests through COVIDtests.gov or by calling (800) 232-0233. The tests typically ship within seven to 12 days of ordering. 
The administration purchased one billion at-home, rapid COVID-19 tests to be distributed to Americans for free, according to a White House statement. 
A half-billion tests were available for order Jan. 19, mailed directly to American households through the United States Postal Service. All orders in the continental U.S. will be shipped through First-Class Package Service. The other half-billion COVID-19 tests will be distributed to over 20,000 free testing sites across America. 
This program is to "ensure that Americans have at-home, rapid COVID-19 tests available in the weeks and months ahead," the statement read. 
Community members receive the tests
Betsy Hope, director of the Greater Oxford Community Foundation and Hamilton resident, ordered her free at-home COVID-19 tests from COVIDtests.gov  Jan. 19 and received them late last week. 
"I thought this was a great idea to make them available to the public on the government's part. Would've been nice to have this happen a few months ago," Hope said.
Within 20 minutes of receiving the tests, she took one just to be safe, especially as she wants to continuously visit her elderly mother, Hope said.  
"[The program] is a great idea. I'm a really healthy person but you never know who is compromised," Hope said. "We have to be considerate. I know people who have died from COVID. It's real."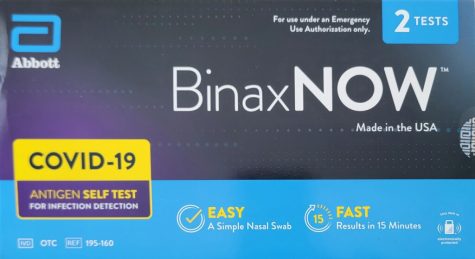 Virgi Sharp, a resident of Oxford, also received her tests late last week, but just retrieved them from her mailbox on Monday because of the recent winter storm. 
"[The process] was really nice, and it was fast and the [other] ones we received at [Lane] Library, one of the batches was expired so I was really happy to see the expiration [on the ones from the government] for the end of December this year."
Sharp has yet to take the tests she received, she said. 
The Oxford Lane Library, located at 441 S. Locust St., offers free COVID-19 at-home tests as they are available. On Jan. 12, the library posted on its Facebook page stating it won't have any more until further notice because the Ohio Department of Health chose to "pause distribution to public libraries and divert all tests to K-12 schools at this time due to lower than expected quantities being available."
Miami University offers at-home test kits 
Miami University has given out 7,600 at-home COVID-19 tests and an additional 5,580 were sent to distribution points  Wednesday, Feb. 9, said Jessica Rivinius, senior director of Miami News and Communications.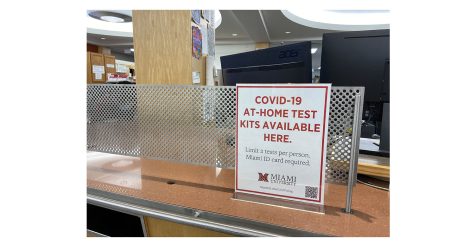 Distribution of the test kits began during move-in week, she said. Since then, 45,142 test kits have been given out to students, faculty, and staff. 
"Given the increasing demand for these tests, the university also recently purchased additional at-home tests from an outside vendor to supplement our supply from the state," Rivinius said. "We are confident that our current supply of at-home tests should last at least three weeks and possibly longer." 
To replenish its supply, Miami received more at-home tests on Tuesday, Feb. 8, from the Ohio Department of Health and anticipates receiving additional at-home tests the university purchased from an outside vendor soon, she said.  
Miami has received at-home tests from the Ohio Department of Health free of charge
The school received 1,800 at-home tests in January and 11,428 at-home tests in February, Rivinius said.
 When to take an at-home test
Butler County General Health District (BCGHD) has provided at-home COVID-19 tests to the community. BCGHD receives them from the Ohio Department of Health on a weekly basis. However, it has been several weeks since their last weekly shipment because of supply chain issues and a rapid increase in demand, said Jennifer McCoy, emergency response coordinator for BCGHD.
"There are a handful of reasons to get tested for COVID-19, including: if you are experiencing symptoms, if you were exposed to a known or suspected case of COVID and it's been at least five days after exposure, for screening for schools and workplaces, when asked to do so by a healthcare professional, and as a requirement for travel," McCoy said.
Hope, vaccinated and boosted for COVID, said she would take a test if she had symptoms or was exposed to somebody with COVID. 
"When giving yourself the at-home COVID-19 test, you have to be disciplined to make sure you really do it the right way," Hope said.
Sharp, immunocompromised and with a daughter at Talawanda High School, said she would use an at-home COVID-19 test as a safety precaution. Sharp's daughter caught COVID-19 a little more than a year ago, ending up in the hospital for three days. Sharp and her daughter are both vaccinated. 
"If we have COVID ,we definitely don't want to spread it to anybody else," Sharp said. "We are extra cautious."
Tests come from different vendors, so there is no comparison in their effectiveness, Everett said. He recommends speaking to a physician along with following CDC guidelines. 
"I'm on the fence about [the effectiveness of at-home tests]," Sharp said. "Everyone says that you should verify it at a hospital or urgent care. I'm not sure, but I've heard they are much better now." 
McCoy urges individuals to follow instructions included with the test kit and recommends parents and guardians check with their child's pediatricians before using at-home tests on young children.