Student assault in hands of Butler County prosecutor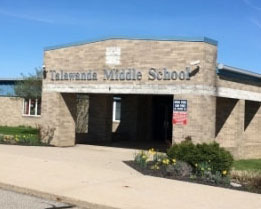 The case of a Talawanda Middle School teacher accused of inappropriately touching a seventh-grade student appears to be moving into the hands of the Butler County prosecutor. 
Dustin Lema, father of the student, told the Observer this week that the prosecutor's office is involved with the case. A spokesperson for Prosecutor Michael Gmoser said the office expects to be involved in the case.  
Lema also said he believes the school district's investigation will be wrapping up shortly.
"I would not be surprised if they have a decision regarding the Title IX complaint by the end of the week," he said.
The incident is alleged to have occurred at the school Dec. 1. The student told another teacher, and the school informed Oxford Police the same day, according to the police incident report, which was heavily redacted. A few days later, Superintendent Ed Theroux announced on the school district's blog that a member of the faculty had been suspended with pay while the incident was investigated. 
Theroux said at the Jan. 10 Board of Education meeting that the district could not discuss particulars of the case, but the case was being dealt with by the school district as a complaint under Title IX of the federal civil rights law, which covers sexual discrimination.
At that same meeting, Lema showed up and spoke out against the board because the district never did anything about previous complaints about the same teacher.
"My daughter is the latest student to be victimized by a teacher at your middle school," Lema said. "Even though she was scared and confused, she knew what had just happened [was] wrong."
Multiple other parents and students also addressed the board, saying they had complained about, or had been abused by the same teacher. 
According to some of those who spoke, their complaints were ignored and no charges were ever filed.
Carley Collins, whose daughter is a seventh grade classmate of Lema's daughter, said that her child expressed concern about the same teacher last fall, and that she (the mother) met with the middle school's assistant principal about it.
"We followed proper protocol," Collins said. "Absolutely nothing was done. Had the school board, administration or Talawanda Middle School administration taken her complaint more seriously, maybe [Lema's daughter] would have been spared." 
Neither the board, nor Theroux, addressed the statements that previous complaints about the teacher had not been dealt with. 
Theroux also refrained from indicating whether any previous accusations about the teacher had been forwarded to police, as required by Ohio law stating that educators are legally obligated to report any complaints of sexual misconduct involving a child to the appropriate authorities immediately. 
Oxford Police Lt. Lara Fening declined to comment this week on whether Talawanda schools had reported prior instances of misconduct regarding the teacher.
"I can't comment on that," Fening said. "In all fairness to the school, maybe those [accusations that had been allegedly ignored] weren't reported as a crime."