Miami cancels registration for students who didn't meet vaccine requirements
Today, Dec. 10, Miami University will cancel the spring semester registration of face-to-face classes for 58 students who failed to meet the university's COVID-19 vaccination deadline.
"These students will be unable to take any in-person classes until they are in compliance with the vaccine requirement," said Jessica Rivinius, director of university news and communication. Instead of withdrawing from Miami, these students have the option to enroll in online-only classes, she said.
In August, Miami announced that students who did not receive an exemption and remained unvaccinated as of Nov. 22 would be unable to register for spring semester classes, would not be allowed to attend in-person classes and events, or access campus housing facilities after Jan. 2, 2022. Employees who failed to comply were told they would face 'disciplinary measures.'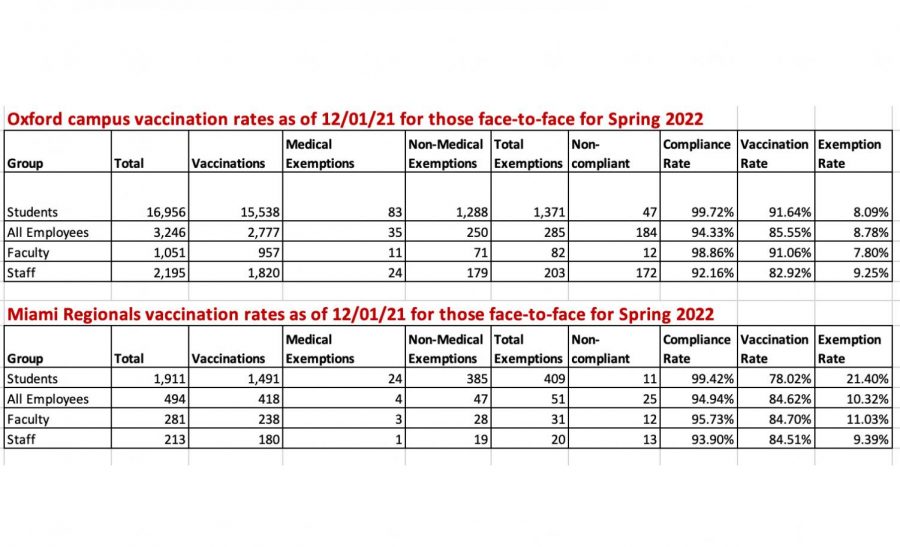 On the Oxford campus, almost 92% of students are vaccinated, and 8% received exemptions. Eighty-six % of employees on the Oxford campus are vaccinated, and 9% received an exemption. At Miami's regional campuses, 78% of students received a vaccine, while 21% received exemptions. 85% of regional employees are vaccinated, with 10% exempted, according to the university. Exemptions were granted for medical reasons, religious beliefs or reasons of conscience defined as ethical or philosophical.
Employees who failed to comply will be first required to complete an educational program. "Following that, we will look at individual circumstances to determine appropriate sanctions beyond education if the employee continues to disregard university policy," Rivinius said.
The university has praised the high vaccination rates, citing student and faculty commitment to protecting health and safety on campus. Miami continues to follow all COVID-19 prevention guidelines, including requiring masks indoors and encouraging vaccine booster shots.