Betsy's Traveling Zoo offers animal education
Betsy McCall lives the dream that every animal lover longs for: Her home is a zoo of her favorite creatures.
McCall has always been an avid animal lover, especially enjoying more unique animals. Her current housemates include a skunk, three bearded dragons, two ferrets, two tortoises, two ball pythons, a tarantula, a tegu lizard, a leopard gecko, and several dogs and cats. She has the necessary permits and licenses to own the animals, as well as some training in environmental education from Miami University.
Her business started with a passion to show her animals and educate children on the wildlife around them. When she brought her animals to an in-home daycare, the owner recommended that she start charging a rate to bring the animals around, which led to Betsy's Traveling Zoo.
McCall now charges $25 to bring three animals to an event in Oxford and $5 for every additional animal. She charges for gas mileage if she goes to an event outside Oxford. She said she expects to increase prices in January.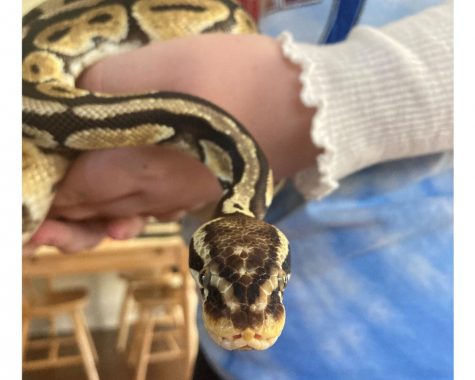 Some of the animals have been acquired through wildlife re-homing groups that McCall belongs to, while others come from breeders. More exotic animals typically require a longer process, such as being a certified wildlife rehabber for three years.
McCall says she spends anywhere from $200 to $250 per month on food for her pets. The animals' diets range from live rats to strawberries to freeze-dried mice.
The star of McCall's zoo tends to be her brown skunk, Princess Dexter. The skunk's name came about when the McCall family thought they were getting a male skunk, but when it grew, they realized it was a female. Thus, Dexter became Princess Dexter.
Princess Dex was de-scented when she was born, a common practice used by skunk breeders. She has plenty of personality, is quite intelligent and even cuddles with the family.
A skunk is one of few exotic animals that can be legally owned in Ohio, but there is an extensive process prospective owners must go through to do so. McCall first applied for a permit through the ODNR (Ohio Department of Natural Resources) website. Her breeder had to be USDA certified, a wildlife officer had to examine the skunk, as well as the USDA bill of sale, and McCall must renew the permit annually.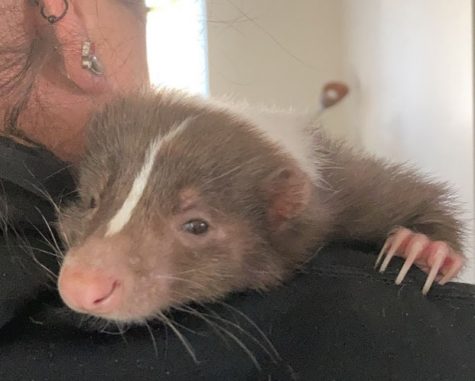 According to McCall, there is not currently an approved rabies vaccine for the treatment of skunks. Luckily, McCall has done plenty of research on the handling of animals.
McCall has had several classroom interactions, including three virtual sessions with second graders in the Talawanda School District. A few weeks ago, she presented in person to Kramer Elementary. She always takes extra precautions when allowing students to pet the animals, and she constantly measures their temperaments.
"People always ask if the animals bite and I always answer, 'They have a mouth and teeth, they can bite, but none of my animals have ever bit me, and we just have to be careful when interacting with them,'" McCall said.
The Traveling Zoo made a virtual appearance in fifth grade teacher David Bothast's classroom last year in Hamilton to teach the students about her skunk, tarantula and monitor lizard. They had the opportunity to prepare questions for McCall as she displayed and handled the respective creatures.
"I looked for unique, engaging and interesting things to continue [the students'] excitement and connection to science, and encourage their online attendance despite the many challenges and obstacles," Bothast said. "Betsy's Traveling Zoo, with its many exotic creatures, was the perfect carrot to dangle to get my students interested and present," 
While Betsy's Traveling Zoo is a business, it has a large focus on wildlife education. McCall has always enjoyed being around children and animals, reflected by her two kids and the 15+ pets she has at home. 
Miami University Zoology student Mindy LaMore said she agrees that environmental education, especially at an early age, is crucial in cultivating a greater awareness for the world around us. She said she believes that Betsy's Traveling Zoo could have an impact on local school children because the children get real experiences with wildlife that make nature seem more real.
"Teaching children about the environment also leads to teaching them about how to save it, which makes this business extremely important in beginning their environmental education," LaMore said.
Looking toward the future, McCall said she hopes to further her educational impact and take in a few more exotic animals. After the holidays she said she plans to begin saving her funds for a fennec fox, which is smaller than a common red fox and has larger ears. She also said she dreams of owning a goliath bird-eating spider, much to the distaste of her arachnophobic husband.