DORA program to return for winter holiday season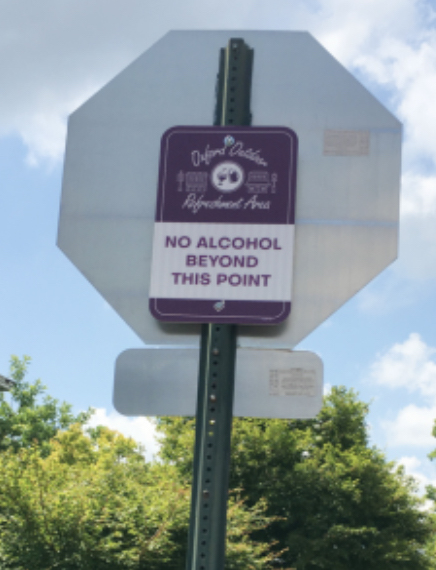 Oxford's Designated Outdoor Refreshment Area (DORA), where adults can enjoy their alcoholic drinks while strolling or sitting Uptown, will return for the winter from Friday, Dec. 17, 2021, to Sunday, Jan. 23.
City Council approved reinstituting the DORA during its Nov. 1 meeting. Created in January 2020, Oxford has approved the DORA idea for periods during the summer and winter holiday seasons when Miami University is not in session and most students have left town.
Any alcohol consumed outdoors Uptown will have to be in a DORA cup and purchased from a participating business. This is an effort by the City of Oxford to support local bars and restaurants. The DORA area is bounded by Church and Walnut Streets on the north and south, and by Campus and College Avenues on the east and west.
Below is a list of participants from this summer's DORA. Most, if not all, are expected to participate this winter:
Bar 1868 (13 W. High St.)

Church Street Social (107 E. Church St.)

Brick Street (36 E. High St.)

Buffalo Wild Wings (10 E. Walnut St.)

Chipotle (1 W. High St.)

Circle Bar (15 E. High St.)

CJ's (25 E. High St.)

Corner Bar (12 E. Park Pl.)

Fiesta Charra (25 W. High St.)

Fridge and Pantry (35 E. Church St.)

Kofenya (38 W. High St.)

Left Field Tavern (12 W. Park Pl.)

Mac and Joe's (21 E. High St.)

O'Pub (10 W. Park Pl.)

Pachinkos (Woody's One Up) (11 S. Main St.)

Rapid Fire Pizza (7 W. High St.)

Side Bar/The Woods (17 N. Poplar St.)

Sorriso (26 West High St.)

Steinkeller (15 E. High St.)

Skippers Pub/Top Deck (121 E. High St.)