Miami reports COVID-19 vaccination rates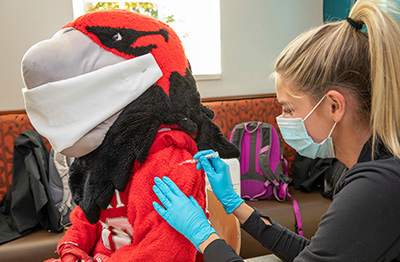 Ninety-two percent of the students on Miami University's Oxford campus were vaccinated against COVID-19 as of Wednesday, Oct. 27, according to an announcement by the university's COVID Response Team. The vaccination rate on the regional campuses was 78%, and the overall rate for Miami employees was 80%, according to the announcement.
The university has encouraged all students and staff to get their first vaccine shot by Oct. 25, and it has mandated that all students and staff be fully vaccinated or have an exemption by Nov. 22. Students who don't meet the deadline will be unable to register for the spring semester. Staff members who don't comply will face disciplinary actions, according to the university policy.
Fewer than 10% of Miami students and employees have requested exemptions from the vaccination requirements, according to the COVID Response Team. Exemptions can be requested for medical reasons sincerely held religious beliefs, practices or observances, or reasons of conscience, including philosophical and ethical beliefs, according to the policy.
Miami has COVID-19 vaccine clinics at Armstrong Student Center. No appointments are necessary. Hours of operation are 6 a.m. to 4 p.m. Tuesdays and Wednesdays, and 10 a.m. to 7 p.m. Thursdays. If you are receiving a second COVID dose, you must schedule an appointment at Armstrong or at University Health Services.
Positive COVID-19 test results for unvaccinated students have remained below 0.5%, according to the announcement. The 45056 zip code, which includes Oxford and the campus, was downgraded last week from an area of high transmission (red) to substantial transmission (orange) by the Butler County General Health District.