Oxford Wine & Craft Beer Festival returns in October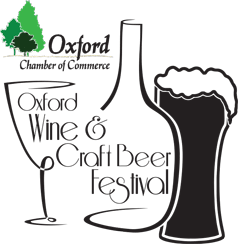 Tickets are now on sale for the Oxford Wine and Craft Beer Festival, scheduled for 2 p.m. to 10 p.m., Saturday, Oct. 9, in Uptown Memorial Park, located at 4 N. Main St.
The event, sponsored by the Oxford Chamber of Commerce, will include the opportunity to sip wine and beer, enjoy live music, eat food and more. There will be performances by Noah Back, Lisa Biales Trio, Wood n Steel "Revival" and Wildheart.
 The Oxford Wine and Craft Beer Festival is a three-time winner of Ohio Magazine's Best Wine Festivals in 2014, 2015 and 2016.
Tickets are $25 online or $30 on the day of the event. Tickets can also be purchased before the date of the event at either the Chamber of Commerce office, 102 W. High St., or the Enjoy Oxford office, 14 W. Park Place, Suite C according to the Enjoy Oxford website.
Volunteers are being sought to be wine pourers, handle registration, sell tickets, and more. To sign up, visit the Oxford Wine and Craft Beer Festival website.