Oxford Coffee Co. reopens for first time in a year
Oxford Coffee Co. opened its cafe doors for the first time in over a year  Saturday, June 12. The local roastery sold fresh cups of coffee and in-house-made sweets and treats from 9 a.m. to 3 p.m. 
The busiest time of day, according to manager Lara Thurston, was from 10 a.m. to noon, when local band Oxford Folk Jazz was playing. Thurston provides the vocals for the group, with Jim Dynes on the guitar, Fred Hautau on the bass, Zach Davis on the ukulele and steel guitar and Frank Fitch handling the fiddle, mandolin, and chromatic harmonica. 
This is the first time the jazz group has been able to play together since the start of the pandemic, and Fitch couldn't think of a better place to hold their first performance.
"It feels wonderful to be alive and above ground and get to play music," Fitch said before the show. "And we're so lucky to have Lara, she's great."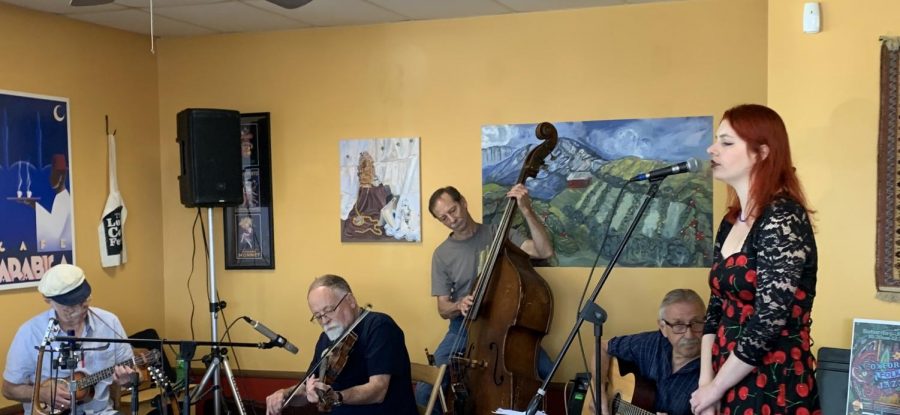 The singer and barista said it felt great to sing with the band again and to see so many people show up for the music. Coffee-wise, Lara Thurston said that sales were "really good for a summer day, way better and way busier."
For the time being, Oxford Coffee Co. will only be open on Saturdays. Lara's father and managing partner, Robert Thurston, was also pleased with how well the shop did on its first summer Saturday. 
"In prior years, we would watch our intake just almost fall off a cliff after about the 15th of May, but that has not happened this year," Robert Thurston said. "And I think the reason is that we made so many new contacts and provided good coffee and good service to people at home in this area. So, I'm hoping that will continue." 
Robert Thurston said the crowds did die down around 1 p.m., so in the next few weeks, the shop will reevaluate its hours to see if they should close up around 1 p.m.
But while Oxford Folk Jazz was playing, almost every seat in the cafe was taken and the line for coffee stretched back toward the door.
Several folks, like Oxford resident Jennifer Bell, were patrons of Oxford Coffee Co. before it closed down and are happy to see the cafe up and running again. 
"I think it's a vibrant community, it brings everyone together, and all ages are here celebrating," Bell said. "And [Oxford Coffee Co.] feels more for the town, not just for the students, so we kinda get something that's ours."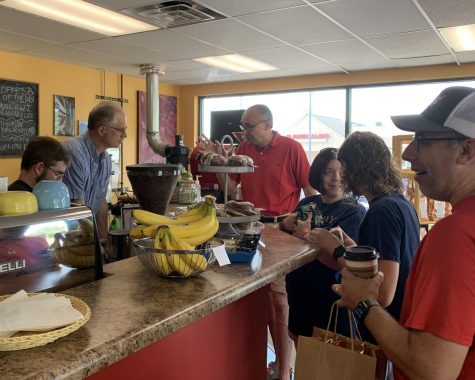 Bell and the other customers were also huge fans of the shop's freshly roasted coffee. Chris Dynes, whose father plays guitar for Oxford Folk Jazz, appreciates how there's no other coffee shop in town that competes with the experience of Oxford Coffee Co. 
"What other places?" Dynes said when asked about other coffee spots uptown. "You come here and you get a personal experience. You've got to go to Cincinnati or Columbus to find something like this. I'm really happy to see a nice, locally-run family business here (in Oxford) doing really good coffee." 
Oxford residents John and Marilyn Barnhart agree. The couple has been coming to Oxford Coffee Co. since it opened in 2012, and they were sad to see the shop close down last May due to the pandemic. But as the shop continued to roast coffee for online orders and pick-ups, the Barnharts continued to support the local business. 
"It's how we got out during the pandemic," Marilyn Barnhart said. "We came and picked up coffee from outside."
Now that the cafe is open for dine-in, the Barnharts plan to be back for the next several weekends to enjoy freshly roasted brews and live music. 
"You grow up drinking Folgers and Maxwell House, and you think it's coffee until you taste real coffee," John Barnhart said. "We're really happy to have (Oxford Coffee Co.), it's a treasure all of our own." 
Oxford Coffee Co. will be open at 9 a.m. on Saturdays for the foreseeable future. Lara Thurston said that Oxford Folk Jazz is not scheduled to return until July 10, so there will likely not be music in the shop for the next few weekends.