Oxford's StoryWalk provides educational fun for children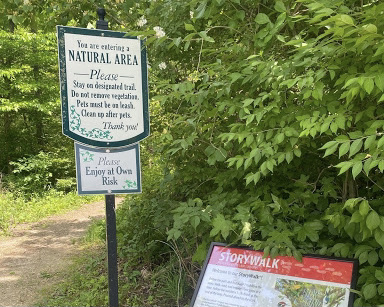 The Oxford StoryWalk has been encouraging families and children to read and engage in the outdoors since January, but new additions this June aim to engage children further.
Rebecca Smith, from Oxford's Lane Library, was a key contributor in bringing the project to Oxford. After taking inspiration from seeing StoryWalks in other Ohio communities, Smith felt the outdoor literary adventure would make a great addition to get Oxford families out and about. February marked the first month of the StoryWalk at the Oxford Community Park.
"We were hoping for people to experience literacy in a different setting and to enjoy and encourage hiking and nature while reading with a family or children," Smith said. "Being outside in nature gives you this sense of calmness, and a bonus to the project, I think the location is absolutely perfect."
The StoryWalk Project was created in 2007 for Kellogg Hubbard Library in Vermont as a way to incorporate literacy, exercise, and an appreciation for the outdoors in young children and families. StoryWalk incorporates placing pages of children's picture books on stakes in an outside trail for readers to enjoy.
Anne Ferguson, the original creator of StoryWalk, came up with the idea after wanting to create an activity for children and parents to be physically active, she wrote in a document listed under the Kellogg Hubbard Library.
"I knew I wanted to create something where the parents had to be as active as the children," Ferguson wrote. "Active parents have active children and physical activity is a key component to chronic disease prevention."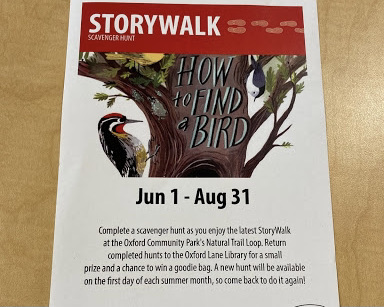 Back in Oxford, Smith said to make the project more of an interaction with children, stories selected reflect the current weather in Oxford, ask questions or encourage readers to observe their environment. In February, for example, the story of choice was "Snuggle Down Deep", a book about animals hibernating for the winter, asked if readers could see animal tracks in the snow.
"We're trying to get kids to engage in nature," Smith said. "Nowadays, I feel like kids spend so much time inside, and it's nice to give them an opportunity to come outside and have fun."
A new addition during the month of June allows readers to go on a scavenger hunt using an activity sheet to find certain pictures on stakes, finding all six pictures gives readers a choice of a penguin toy, or a flamingo lollipop and enters them into a drawing for a larger goodie bag.
Jennifer Bulanda, a Miami University sociology & gerontology professor and Oxford local, took her family to the StoryWalk.
"My 5-year-old liked the activity of finding and counting the different birds in the different locations," Bulanda said. "It's a great new activity, because it combines the ways parents are trying to emphasize reading, physical activity, and love of nature."
Rebecca Smith hopes that the combination of the scavenger hunt, warmer weather, and an ease on COVID-19 restrictions will encourage families to adventure on the StoryWalk and engage with the Oxford Lane Library further.
"I think it's increasing with more and more people coming into the library after the scavenger hunt was implemented," Smith said. "We're seeing more feedback on Facebook posts with parents saying they had fun with their child, and I think that's the best part of this project."