State representative reaches out to Oxford City Council
State Representative Thomas Hall (R-Madison Township) introduced himself to Oxford City Council, on June 1, at the first face-to-face council meeting to take place since he was elected. 
In his introduction, Hall promised to increase community outreach now that the pandemic has tamped down, specifically by hosting more district-wide and community-specific town hall meetings. 
"Our office is really dead set on… hearing from you guys, to understand what you guys are trying to accomplish in the city and to try to be the best voice possible for this district," Hall said at the city council meeting. 
That was welcome news to members of council, who said they seldom heard from Hall's predecessor, Candice Keller, who was term-limited out of the house and lost a primary race for a state senate seat last year.
"We've tried for forever to get some of our state reps to come and visit, and to my mind he is the first one I can think of in eight years who's actually come to see us," Oxford Mayor Mike Smith said. "So, he's very welcome, and we're willing to work with him, he's willing to work with us, and we're glad to have him."
Councilor David Prytherch said he reached out to Hall after he was elected in 2020 and invited him to visit the city during his tenure. Prytherch also mentioned how Keller never came to council meetings and primarily communicated via social media. 
"It was more antagonistic, and I'm not sure a lot of legislation came out of it. We appreciate a legislator who actually is trying to do their job and represent everyone in the district," Prytherch said. 
Hall was sworn into office Jan. 4 and is the youngest member of the Ohio House of Representatives. He's 25-years-old and graduated from Miami in 2018 with a bachelor's degree in commerce. 
The representative of the 53rd District, which includes Oxford, said he gained political experience by running for and serving two terms as a township trustee in Madison Township, beginning at age 20. Hall grew up in Madison Township, where his father serves as a fire chief and is a retired police officer who serves as a school resource officer at Madison High School. 
Working as a trustee allowed him to learn more about local government and make connections within Butler County, Hall said. But his work as a state representative has only just begun. 
"A very vital part of our office is hearing from the different parts of the district," Hall said. "And that's why we go to these council meetings, that's why we regularly attend events in the different communities, because we want to make sure that we're hearing directly from the district and that we're representing them so that we have the best voice for them."
Councilor Chantel Raghu spoke to Hall privately after the meeting and said she asked him specifically to evaluate state laws that fail to address street harassment for LGBTQ people and people of color. At the next council meeting, a listening session was scheduled for LGBTQ and people of color to speak about their harassment experiences on and off-campus. 
"I told him that it's important to make our streets as safe as possible for everyone, and no one should be pro-harassment," Raghu said. "He told me that we should talk more about it, and if it's a legislative issue, that his people will look into it. That's when I told him that, 'Look, no one is pro-harassment, right?'"
Hall stayed for the entirety of the in-person council meeting and spoke with several council members including Raghu, after the meeting concluded, exchanging contact information with them so that city officials have a direct line of communication with him for the future.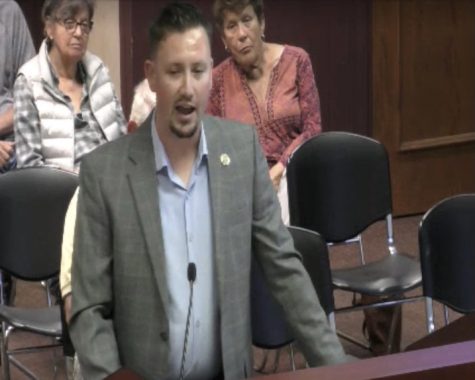 Hall won the state representative seat over Democrat Michelle Novak with 68% of the vote. 
Oxford council members run on a non-partisan ballot, but Prytherch said he hopes the Republican state representative will be able to assist the city with infrastructure or economic development issues that affect everyone, like the Amtrak project. 
One of the resolutions that the council voted on during the meeting allowed City Manager Doug Elliott to negotiate the option to purchase the Nelson Morrow Building from the Talawanda Board of Education for said railway station in the Chestnut Fields project. This resolution stuck out to Hall during the meeting because he heard City Manager Doug Elliott mention that more state funding would be needed to keep the project moving forward.
"We're all kind of waiting on President Biden's infrastructure plan to see what happens with that," Hall said. "So that's something that was brought up a few times and I feel like, at this time, I just don't have a lot of information to go off." 
Biden's plan was introduced earlier this year and now is under consideration in Congress.
In the meantime, Hall said during Tuesday's meeting that five pieces of legislation that he primarily sponsored are going through the committee process right now and four more are being drafted. The five in-process include a bill regarding Ohio's information technology system and shared services, a bill authorizing a county to implement motor fuel quality testing, a bill to revise the Athletic Training Law regarding occupational licenses, a bill to grant tax credits to volunteer firefighters, and EMS staff, and a bill that would allow people who are authorized to carry guns in schools to only need the firearms training required for concealed handgun licenses, not peace officer basic training.
Hall said he wants to keep the lines of communication open between himself and members of Oxford City Council so that they can weigh in on Hall's activity in Columbus.