Talawanda High School class of 2021 celebrates graduation
After high school life marked by a pandemic, isolation and virtual learning, 257 seniors graduated from Talawanda High School in an open-air ceremony Thursday evening.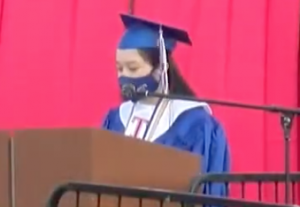 Speaker after speaker emphasized that the missed events, shifting learning requirements and the threat of contracting the COVID-19 virus had all given the class of 2021 added strength and maturity to face what comes next in life. 
"The resilience we have gained will aid us in the obstacles ahead, big or small," class valedictorian Rita Danwen Zhou Wang told her classmates.
Wang is among the 70% of the class planning to go on to college. The college-bound will attend 20-25 different universities, High School Principal Tom York told the crowd gathered in the school's football stadium. The students moving on to college have received more than $8 million in scholarships, York said.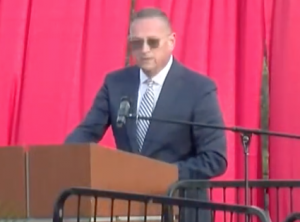 Another 20% of those in the class already have jobs and nine of them have enlisted in the military, York said.  During this class' four years at Talawanda, the school won 26 Southwestern Athletic Conference championships, he said.
The class members have a right to be proud of their successes and have shown the ability to persevere through adversity, York said. Through it all, they never lost their identity or feelings of closeness with each other, living up to the motto York has coined for the school: "Relationships before tasks." 
The 7 p.m. ceremony had the students seated on the field, while parents and friends — five to a graduate — were seated in the grandstand. Some wore masks, others did not, following CDC guidelines that those who have been vaccinated generally do not need to wear masks outdoors.
This year's ceremony was far different from the virtual-only commencement of the class of 2020, which occurred while the school district was in a virtual learning mode and school buildings had been closed for two months. The 2020-21 school year started out virtually, returned to face-to-face classes and then had to return to virtual learning when COVID cases rose. The district returned to face-to-face classes in January. 
Some students, for medical reasons of their own, or to guard against the risk of infecting a vulnerable person at home, remained in virtual classes all year. Of the 257 graduates, 37 did not attend Thursday's ceremony in person, but were able to watch it on YouTube, said Holli Morrish, the district's director of communications and public engagement.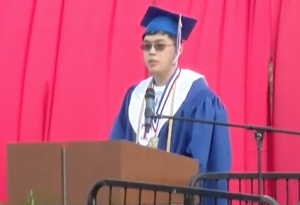 "Today marks our graduation and the start of something new. But none of us could have done it without amazing people supporting us," said Luke Liang, class salutatorian, as he addressed the crowd. He told his classmates that he would miss them and hoped that they would all experience failure at some point, because failure "is a reminder to always get up after a fall," just as the class of 2021 had been able to get back up after the stress of the pandemic.
Brooke Hubbard, student body president, gave a light-hearted speech about her first day of high school. She described how on that day, her older brother drove her to school and when they got there, she had expected some brotherly words of encouragement. Instead, he turned to her and said, "get out," and she realized it was all on her.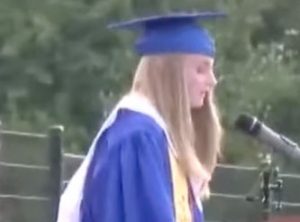 "It always seemed like everyone older had everything figured out," Hubbard said. "But there is no rule book" that fits every problem, and the graduates will have to figure a lot of things out for themselves, she said.
"We have dreamed about this day since we were young," graduate Hannah Adkins-Lamb said from the podium. "And although our image of graduation was walking across the stage at Millett Hall, I can't think of a better way to end this challenging year than at the school that has shaped us into the people we are today." 
The motto of the Class of 2021 is "when you get to the top of the mountain, keep climbing," she said. "I encourage you all to keep climbing."