Regional sports complex to open this fall
The hum of drills and power saws echoes through Hamilton, Ohio, as construction of the Spooky Nook Sports Champion Mill complex continues.
Despite a late March setback — when steel beams of the indoor turf field-building were toppled by strong winds –, the $165 million project is on track to open later this year. Reconstruction of the damaged building will begin in the following weeks.
Construction moves forward
Spooky Nook Sports is located off North B Street in Hamilton, home to Champion Paper Mill until 2012. When complete, the sports facility will cover more than 1 million square feet, owner and founder Sam Beiler said during a media tour of the project in late April.
The "Mill 1" building will feature amenities such as a fitness center, hardwood courts, a climbing/adventure center, sports courts, and turf fields. "Mill 2" will stand as the conference center and will hold a ballroom, 16 conference rooms, and 233 hotel rooms. About 60,000 square feet will be available for retail tenants.
Sports such as soccer, volleyball, basketball, baseball, field hockey and more will take place at the facility. Thirty-two weekends of tournaments and similar events have already been booked.
Mackenzie Bender, public relations and communications manager of Spooky Nook Sports, explained that "each individual hotel room is not going to be 'cookie-cutter.' They're going to have a little bit of character, a little bit of personality and a little bit of individualism."
Beiler recounted the historical significance of the location.
"Almost everyone here — not just Hamilton but throughout the county — either has a mother, a grandfather, an uncle, or someone that worked here," he said. "The people are the story of the mill and that mill's impact is clear."
In remembrance of the Champion Paper Mill's impact on the Butler County area, pictures and murals commemorating the mill will be displayed in the conference center. Historically accurate windows are also being installed in the ballroom, offering a view of the Great Miami River just outside of the building.
The Spooky Nook company built its first sports complex in Lancaster, Pennsylvania, along Spooky Nook Road, hence the name. According to a video on the company website, the definitive pronunciation of the name, according to founder Sam Beiler, is Spooky (rhymes with cookie) Nook.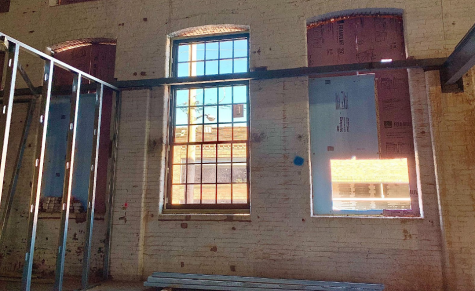 An economic boom
New restaurants, apartments, and businesses already plan on opening in the Hamilton area with the construction of Spooky Nook. Although the facility will feature a hotel of its own, planners suggest that tens of thousands of visitors will come through the area each weekend, requiring additional lodging in Hamilton and elsewhere in Butler County.
"I lived in Hamilton until I was about 25," said Lisa Disbro, director of hospitality operations. "To see that Hamilton has already made such a big investment in growth, infrastructure, and businesses… and that so much heart is in that town; (to know) the business that Spooky Nook is going to drive to those establishments — that is what makes me so excited."
Dave McLain, general counsel/director of real estate development of Spooky Nook Sports, predicts that restaurants will be filled, more hotels will be constructed and many homeowners of the area will begin renting out their properties and/or refurbishing and selling them.
"It will be an economic revival for this direct neighborhood," McLain said.
Traffic will be impacted as business grows.
Scott Hoover, traffic operations manager for the city of Hamilton, explained that "this development is causing some larger projects to be looked at, like the North Hamilton Crossing and some major construction projects in the future."
An impact that goes beyond Hamilton
As for neighboring institutions such as Miami University, Spooky Nook plans on collaborating with the main campus as well as regional campuses for events, conferences, and sports matters.
Both the Oxford and Hamilton campuses have expressed interest in using Spooky Nook for conferences and other events, Disbro said.
Recounting her experiences of struggling to find spaces for social events during her years as a member of Kappa Delta at Miami, Disbro said that Spooky Nook will "have some great spaces" to hold such functions.
The staff has also been in contact with the Miami Recreational Sports Center as well as the Oxford Aquatic Center about collaborating for future sporting events.
An estimated 400 employees will be hired to run the facility. Internships, full-time and part-time positions will become available as the complex opens.