Miami men's swim and dive team wins MAC honors
The Miami University men's swimming and diving team ended this school year with Mid-American Conference (MAC) awards for its team, its coach, and two individual members.
The team placed first in the MAC, with a total of 932 points, during its season-ending three-day meet in April.
The team was led by Coach Hollie Bonewit-Cron, who was given the title of MAC Swim Coach of the Year. 
"I couldn't think of someone more deserving of the MAC Coach of the Year than Coach Hollie," Ryan Sego, junior swimmer, said. "I first met her in my junior year of high school and she has been a coach and a mentor to myself and many of the swimmers."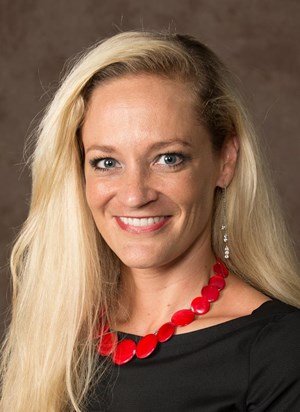 Bonewit-Cron, the team's head coach for four years, is the first female head coach to lead the team to the conference championship.
"I am beyond humbled," Bonewit-Cron said about her award. "I believe the coaches in our conference are all deserving of this award and it's an honor they chose me to receive it."
The Miami swim and dive program also earned MAC Freshman of the Year and MAC Swimmer of the Year, which was claimed by Henju Duvenhage. 
"It is quite amazing," Duvenhage said. "It was a really interesting year and it was a privilege to have such a great team and coaches to help get me where I am today."
Duvenhage, who has been swimming since he was 7-years-old, had competed in many championships before coming to the United States from South Africa. 
"I hit a high point in my swimming career when I was 16-years-old and went to the Junior Olympics in Buenos Aires," Duvenhage said. 
Duvenhage won the 200-meter butterfly event and helped in the win of the 200-meter medley relay, which also included Owen Blazer, Noah Barr and Ben Chatwin.
In addition to Duvenhage, Blazer placed third in the 100-meter backstroke event and Neal Wolfram ended up second in the 1,650-meter freestyle. 
"The biggest factor in our win this year was our amazing freshman class," Sego said. "Upperclassmen on the team were blown away with confidence and talent that this class brought to the team." 
While some of the swim team members claimed that this was a difficult year with COVID restrictions, the team was still able to have practices and lifting to prepare for the championship meet.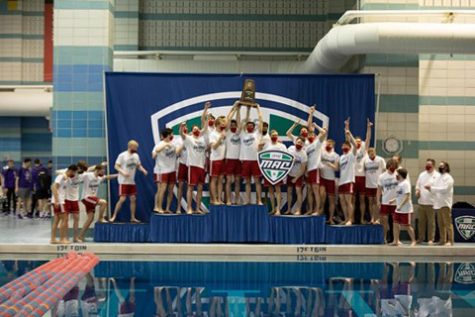 Fitz Miller, who is a sophomore on the swim team, said team members swim 20 hours a week in normal times. 
"This year we could only swim 15 hours a week because the team is so big and practices needed to be split up," Miller said.
Some of the swimmers believe that the different practices helped the team get the MAC championship. 
"The lanes had less people and you were able to train more easily," senior Noah Barr said. "I think we trained really well even though the MAC championship was pushed back and we had to start later than usual."
This is the second MAC title for men's swimming and diving in the last three years. The team won a MAC championship in 2019, its first since 2006. The win in 2019 helped push the team to their win this year.
"We won for the first time since 2006 in my freshman year and we lost in 2020, so our mindset was we were not going to be beat again," Barr said. 
With the season wrapped up, team members are preparing for next year by training and lifting. 
"Next season will continue our focus on not only conference success, but also national success," Coach Bonewit-Cron said. "We have a solid group of athletes staying in Oxford and the rest will go home and train with their clubs."
Sego predicted more wins. 
"This is not the last Miami men's swim and dive MAC championship you will see. We have another amazing class of hungry, talented swimmers coming in next year," Sego said.