Workshops teach community about nutrition
Nancy Parkinson, an associate clinical professor at Miami University and registered dietitian, has provided nutrition education programming to the Miami and Oxford community for 15 years, with her most recent project being virtual nutrition and cooking workshops. 
Coining herself "Nancy the Nutrition Nut," Parkinson works with university and community organizations, such as the Talawanda Oxford Pantry and Social Services (TOPSS), Oxford Kiwanis, Oxford Presbyterian Church and Miami's Student Academy of Nutrition and Dietetics (SAND), to provide the community with nutrition education and knowledge. 
"Between the Miami student organizations, Oxford community organizations and local churches, there's a lot of support for local nutrition education," Parkinson said.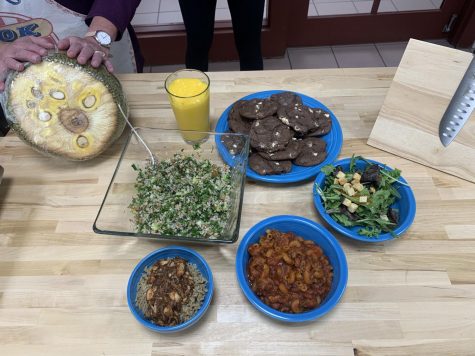 Oxford Kiwanis and Presbyterian Church support nutrition education in the community because it has been found that often food is donated and community members don't know how to properly prepare and use it, Parkinson said.
"Fresh produce is donated, but community members don't know how to use it or they've never tasted it," she said. 
To combat this issue, Parkinson, in collaboration with TOPSS, has provided taste testing sessions weekly for more than 10 years at the food pantry, in which she calls on her nutrition students from Miami for help.
"It clarifies my purpose as an educator to provide opportunities for the students to expand their knowledge," Parkinson said. "It's putting that theory of what we learn in class, we apply."
Before the pandemic, Parkinson was also putting on family cooking workshops at the Oxford Family Resource Center. Now, she's hosting these workshops virtually for any member of the Miami and Oxford community who would like to join.
On Jan. 4, Parkinson hosted her first nutrition cooking workshop in which about 60 fourth and fifth graders from Oxford Kiwanis' K-Kids program were online preparing snacks with her. 
"I told my (college) students when they came back from J-term, 'the bug has hit me,'" Parkinson said. 
Parkinson has hosted three virtual workshops since the first one Jan. 4. Members of SAND help Parkinson prepare nutritional food kits for the workshops, which include all the ingredients needed for the recipes they'll be cooking on Zoom, said Parkinson. Those participating in the workshop can contact Parkinson to figure out a distribution point where they can pick up the kits beforehand.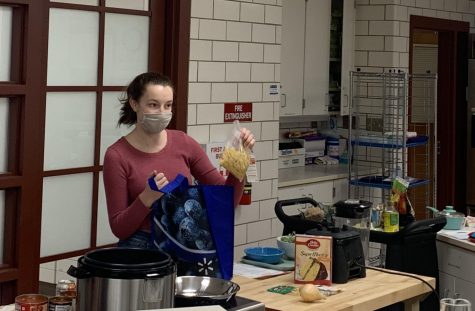 SAND members also help host the live event. Parkinson has them share the history and nutritional analysis of the meal that participants will be preparing.
Parkinson's most recent workshop Thursday, April 15, featured five recipes from different cultures. Parkinson and her student volunteers walked participants through making an American pasta dish called Johnny Marzetti, tabbouleh salad, jackfruit BBQ, a mango smoothie and chocolate cookies with white chocolate chips. They also provided vegan and vegetarian substitutions for each recipe. 
Amy Macechko, health and wellness coordinator for the Talawanda School District, has been involved in a few of the virtual nutrition workshops, helping Parkinson reach K-12 students and delivering the food kits to the students.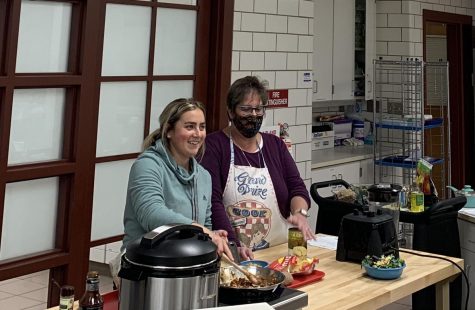 "I think it's a fantastic opportunity for our community and our students to learn about nutrition and to actually get to prepare snacks, meals, or foods that they otherwise may not try," Macechko said. 
Parkinson used to do in-person nutrition education programming at the Talawanda schools before COVID-19, Macechko said. However, Macechko said she believes Parkinson should continue virtual workshops even after the pandemic, as it's a great platform to reach more people, students and families.
"Nutrition education and sharing our nutrition knowledge – that's the bottom line," Parkinson said. "And helping people live healthier lives."
Moving forward, Parkinson hopes to address food justice and food sovereignty and include many other disciplines at Miami within nutrition education programming for the community.