Thread Up Oxford promotes clothing upcycling initiative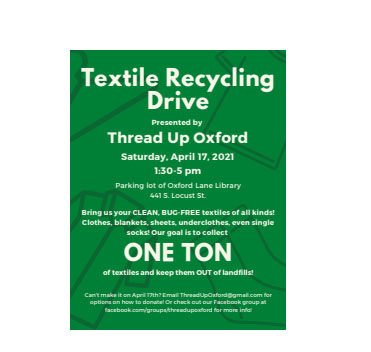 A new action group in the Oxford area, Thread Up Oxford, is helping the community rethink their use of textiles and to keep textile waste out of landfills. The group's first major recycling initiative culminates with a drive-through collections from 1:30 p.m. to 5 p.m. Saturday, April 17, in the parking lot of Oxford Lane Library.
There are also donation barrels at three locations around town, where material can be dropped off: in the foyer of Oxford Municipal Building, 115 S. College Ave.; in the office of the Family Resource Center, 5445 College Corner Pike; and at the Oxford Seniors, 922 Tollgate Drive.
Clothing, bed and bath linens and any other textiles are welcome. Spokesperson Shana Rosenberg said Thread Up Oxford will be setting up programs about textile arts and crafts, mending clothes and more that will promote recycling and upcycling textiles. The group also plans a community clothing swap later this year.