Churches' flexibility maintain connections, attendance amid restrictions
Religion, it seems, helps many Oxford residents weather the pandemic.
The past year was fraught with worry about the contagious virus that prompted some churches to suspend in-person services and the members of others to avoid crowding into the confined spaces of the sanctuaries. Yet, several local churches report membership remained constant, and in some cases even increased. 
"It's been so interesting, because worshiping online is very different than worshiping in person," said Rev. Marc van Bulck, associate pastor for family and campus ministries at Oxford Presbyterian Church. "Preaching to a camera is very different than preaching to a human being." 
As the church adjusted to the online model, it found that it was able to connect with community members that it couldn't connect with beforehand.
"There are members of the congregation who can't come to worship in person," said van Bulck. "We have folks who did campus ministry here that have now graduated and moved away. And now they're able to continue to worship with us on the live stream." 
Before the pandemic, church members who were hospitalized, homebound or in assisted living facilities received a DVD with an old worship service from the Presbyterian Church. Now, these members do not have to miss a worship service because they can watch a livestream.
Allowing hospitalized and homebound church members to worship with everyone else has offered an unexpected connection, said van Bulck.
Connecting with so many different individuals virtually has helped Oxford Presbyterian Church with its attendance.
"Our attendance really hasn't suffered much," van Bulck said. "In terms of the virtual service, I think in some cases, it's even increased a little bit. Just because it's reaching people in a different way and through a different medium."
At Oxford United Methodist Church, attendance numbers have stayed consistent as well.
"There has not been a significant change in the number of people watching our services compared to in-person services," said Susan Walker, office administrator at Oxford United Methodist Church. "Since our services are posted on YouTube, we may have some new followers." 
Although attendance remained high during virtual services, officials from both churches said they miss the in-person community with their congregations.
"Virtual worship really doesn't replace being in a room with somebody, able to hug them or shake their hand or be able to see them and talk with them," van Bulck said. "I think those human connections are enormously important to us as human beings." 
"I think we all miss seeing each other and singing in church and experiencing the message together," Walker said.
As gathering places made for human connection and a community, churches struggled to adjust to the restrictions of the pandemic.
"We're created to be relational beings," van Bulck said. "And when your capacity to be relational is as limited as it has been in the past year, it really takes a toll on folks." 
After a year of virtual worshipping, churches start to return to in-person services as the COVID-19 vaccines are distributed more widely.
St. Mary Roman Catholic Church has operated at limited capacity with in-person services since mid-January.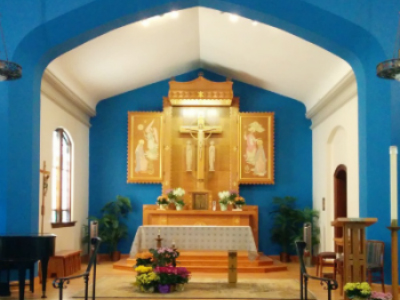 Thrilled to be returning to in-person worshipping, Pam Burk, business manager of St. Mary, said that the limited capacity will impact upcoming popular Christian holidays.
"That capacity is going to affect how many people are able to attend our services during Holy Week," said Burck, which starts with Palm Sunday March 28. 
Oxford United Methodist Church plans to debut its in-person worship on Easter Sunday with an outdoor service. 
Oxford Presbyterian Church, while implementing social distancing rules and masks, started in-person services with limited capacity, last week. At the Presbyterian church, health checks are required before entering the building.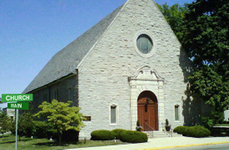 In a very unprecedented year, churches still manage to show appreciation for the lessons they've learned.
"We've learned that it's important for churches to continue to be creative and vibrant and flexible and open to change, said van Bulck. "Churches can be notoriously slow to change . . . One of the things about the pandemic is that it's kind of forced us all to change very quickly." 
As local congregations evaluate both the blessings and hardships they've faced over the past year, some reflect on a message that has been consistent throughout the pandemic.
"You can't take anything for granted," said Walker. 
"I hope that as we move into the new year, we can look forward to returning to some form of normalcy," said van Bulck. "But I also hope that we hold on to that creativity and that energy that we learned from this because I think it's really an important thing to not let go of."