Outdoor Center teaches how to backpack on a bicycle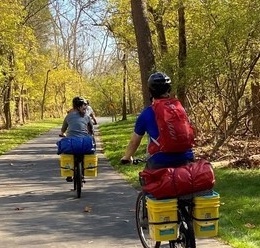 Learn to backpack on a bicycle at "Intro to BikePacking," 5 p.m. Wednesday, March 24, at the Miami University Outdoor Pursuit Center, located in the Rec Center, 750 S. Oak St.
Bikepacking is backpacking with a bike or any bike ride that includes an overnight stay, according to bikepacking.net. It's a new sport and quickly growing in popularity, according to the event page description.
Wednesday's bikepacking trip will be through sections of the Oxford Area Trail System (OATS) and the countryside of Butler County. The ride will end with camping at an approved site in Miami's Natural Areas. Participants will carry what they'll need for a night out.
There's a $40 registration fee in order to participate, but no prior experience in bikepacking is needed. The registration link can be found here.