Oxford Police makes arrest after recent string of burglaries
One arrest has been made after a string of burglaries in Oxford during Miami University's January term, according to Oxford Police Lt. Lara Fening.
Fening said it is unclear how many burglaries the male suspect may have been involved in. Since the start of Miami's winter break, 14 burglaries were reported. Most of them were in apartments unoccupied during the break.
"I could not tell you how many burglaries that his arrest would account for," Fening said.
The recent increase in burglaries have caught the attention of not only the Oxford Police Department, but also of property owners like Joshua Smith. Smith owns six properties in Oxford, and four fell victim to break-ins in 2020.
"Only in 2020 were my rental properties impacted with break-ins . . . yet zero in the previous five years. (It) reinforces my personal view of there being a dramatic increase," Smith said.
Fening said that it is common for break-ins to increase during long periods of vacancies in student housing, such as summer and winter breaks, but that the rate of burglaries fluctuates year to year.
"Every year is different," Fening said. "It depends on the type of criminal or how many criminals are doing this."
Fening said the police department is well aware of the heightened risk of break-ins during these times, and officers try to mitigate this by conducting more foot patrols and being "stealthy" as they patrol. 
"We're on heightened alert while all of these properties are vacant," Fening said. "Our patrol tactics are very different. We'll do more foot patrol, we'll do more stealthy patrol to try to sneak up on someone."
Televisions and other electronics, like gaming systems, are items that criminals are looking to steal, according to Fening. To reduce the risk of being targeted, Fening suggests taking portable electronic devices home over breaks, closing blinds and leaving an outdoor light on. The Oxford Police Department also offers vacant house checks. 
Smith said his concerns are not intended to be an attack on the police department, as he thinks they "are doing everything they can to monitor and keep the community safe." However, he said he hopes there are both short and long-term fixes that can be implemented.
In the short term, Smith said he would like to see an assessment done to see how immediate change could be made. His properties are mostly on the north side of Oxford, and he said he believes that is where the break-ins have been more common.
According to Fening, nine of the 14 burglaries, or 64 percent, occurred on the north side of town.
Hannah Santoni, a junior living on the north side of campus, said she and her roommates were among the burglary victims.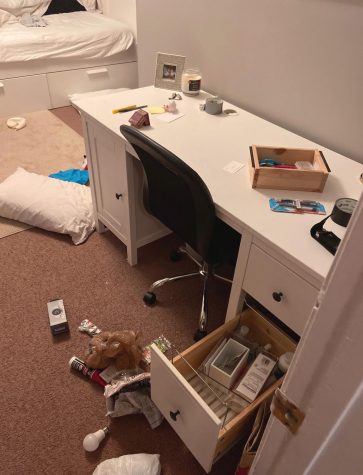 "(The burglar) smashed the window of the back door to get through," said Santoni. "They stole all my jewelry, including the jewelry rack, and destroyed my room."
As for long-term remedies, Smith thinks there needs to be a focus on supporting those in the community who may be in need.
"I believe a substantive approach would be to focus on rehabilitation or efforts in supporting the community or people who are struggling and perhaps resorting to crime out of perceived need," Smith said.
Smith spoke at the Jan. 5 city council meeting, and said he has since been in contact with Chief of Police John Jones. 
Though the burglaries have caused some financial concerns for Smith, he said his concern is mainly about the Miami and Oxford community, which he appreciates as a Miami graduate.
"My reason for bringing this to the attention of the City Council was from genuine concern of the sustainability of the Miami/Oxford experience," Smith said. "Oxford is special and, selfishly, I want it to stay that way."