Local businesses to receive direct grants for COVID-19 relief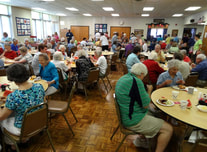 Oxford City Council got rid of the $200,000 gift-card program created in April with federal funds from Coronavirus Aid, Relief and Economic Security (CARES) act to aid local businesses hurt by the pandemic. The gift cards never caught on with the public so council has reallocated the money to be used as direct grants to the businesses.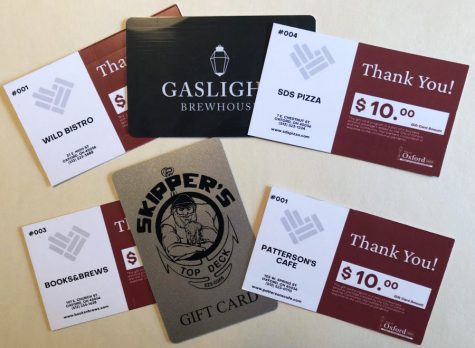 Fifty-one local retailers participated in the program, but only about $15,000 of the cards were sold, City Manager Doug Elliott said in the Oct. 7 city council meeting. Any gift cards already sold will be honored by the businesses, he said. 
In April, council allocated the money to the Oxford Community Improvement Corporation to create the gift card program.  
"It (the card program) has been a slow process," Assistant City Manager Jessica Greene said. "It's very staff intensive." 
Meanwhile, council allocated another $807,626 in a third round of CARES funding, to local groups impacted by the coronavirus. 
The criteria for the CARES grants, which have been made to local governments all over the country, are that the funds be used to aid the community in four categories: basic needs, public health, educational support and economic stability. The third round of allocations, The $807,626 approved by council on Oct. 7, supports all four, said Greene.
That round of allocations went to local organizations for:
Basic needs: 
People United Self Help (PUSH) — $25,000
Public Health:
Oxford Seniors — $41,600

Age-Friendly Oxford Mailer — $7,840

Three Ventilators — $42,000

Symptomatic COVID Testing — $15,000
Economic Sustainability: 
Enjoy Oxford — $35,000

Gift Cards to Grants — $200,000

Winter Programming — $79,000

City of Oxford Website — $25,000

Chamber of Commerce — $10,000
Educational Support: 
On Oct. 20, next week's city council meeting, a final allocation for the $250,404.90 of CARES funds will be awarded. Greene said she is bringing two proposals to city council for spending the money.
Greene is proposing an additional $195,00 to give to local businesses and an additional $53,000 for a new refrigerated food truck that Talawanda Oxford Pantry and Social Services (TOPSS) would share with the Oxford Farmers Market. 
The city council also has decided to use CARES money to provide free WiFi in Uptown Park, Oxford Community Park, Leonard G. Howell Park, and Merry Day Park. They will also provide WiFi for areas along College Corner Pike that do not have such services.
"We are also doing direct free WiFi in the homes of Parkview Arms Apartments and the mobile home community for individuals who live there, as a free utility," Greene said.
Greene said the equipment will be purchased by the Dec. 28 deadline of the CARES act and the installation will go through the first quarter of 2021. 
Free WiFi is not the only support the city is providing to lower-income residents. The city also is considering using CARES funds to provide symptomatic testing for community members who are uninsured and cannot afford COVID-19 testing. The details on this project are still being discussed. 
"Right now, we are working on price quotes from McCullough-Hyde and Primary Health Solutions," Greene said. 
Other than the city, local organizations are very conscious of the overall well-being of its members. Steve Schnabl, executive director of the non-profit Oxford Seniors, is vigilant in protecting the health of the elderly community they serve and this round of funding is providing the organization with its second COVID grant. 
According to Ohio state regulations, Schnabl said, the Oxford Seniors staff must be tested every two weeks and their elderly clientele should be tested on a general repeated basis in order to re-open the senior center for face-to-face activities. Oxford Seniors will also be spending grant money on disposable personal protective gear for the staff, he said.  
"I think it's wonderful that the city of Oxford has reached out to the major social services and shared the CARES act money," Schnabl said. "We can continue to do our job and help our residents put in difficult situations as a result of the COVID virus."
Though the state-issued permission for the organization to re-open for face-to-face activities on Sept. 21, Schnabl is hesitant. With an elderly population, he wants to see a drop in cases before he feels comfortable resuming in-person programming for the Oxford Seniors community. 
"At this point, we will not consider reopening until at least Nov. 2," Schnabl said. "That would only be if the county is at the orange level for two consecutive weeks and [there is] a significant drop in new cases in Oxford and at Miami. I'm not very optimistic."
Orange is the second-highest rating under Ohio's system of color-coding counties based on the amount of COVID-19 cases. Butler County has had a red rating, the highest in the system, for several months.