COVID-19 cases reach record high in Ohio
Ohio reported a record number of COVID-19 cases Wednesday, Oct. 14, with more than 2,000 people testing positive for the virus. That record was broken Thursday, Oct. 15, when more than 2,100 cases were reported in Ohio.
Cases are up at Miami University with more than 500 active student cases. As of Wednesday Oct. 14, more than half of Miami's Residence Hall floors have reported at least 1 case of COVID-19 in the last seven days. About 20 percent of Miami's Residence Hall floors are categorized with a purple coding, meaning there's evidence of a COVID-19 cluster and that students have been asked to remain in their dorm rooms.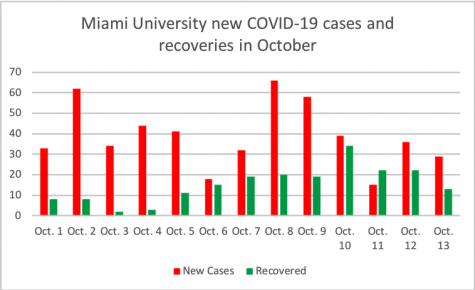 An email sent out campus wide Thursday by Miami's Crisis Management Team asked students to wear face coverings indoors and outdoors, social distance, limit gatherings, wash hands and follow remain-in-room procedures.
"It is also very important to maintain these efforts while engaging in off-campus activities," the email said. "Being Miamians means we have a responsibility to act for the greater good of our University and our community – not just when we are on campus, but everywhere we go."