Books & Brews remains open, welcomes new partnership despite the threat of COVID-19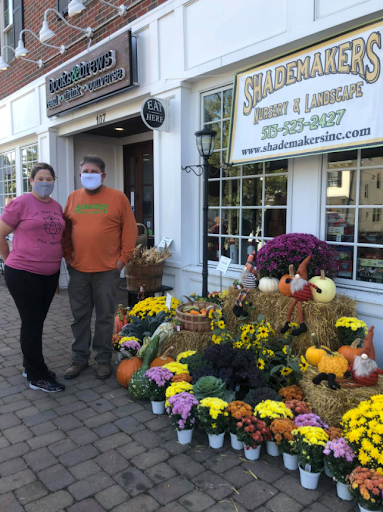 Opened in July of 2019, Books & Brews has been a local business innovator amid the restrictions and closures brought on by COVID-19. 
Books & Brews, which combines the elements of a pub and a reading room,  located at 107 East Church St.,  instituted standard safety precautions: worker and customer mask-wearing, limited capacity, socially-distant tables, no-touch QR code menus and constant sanitation. The place makes use of outdoor patio seating and works hard to stay open and continue serving as a safe, eclectic place to gather.
But the business also has developed a retail partnering operation with another local business, sharing both space and customers. 
"I was inspired by the traffic that the Oxford Farmers Market gets from selling their varied goods every Saturday," said  Books & Brews owner Ann Kamphaus.
The new partnership combines the efforts of Books & Brews and Shademakers, a local garden and landscaping business. The partnership allows goods from Shademakers to be conveniently featured at Books & Brews for easy customer accessibility.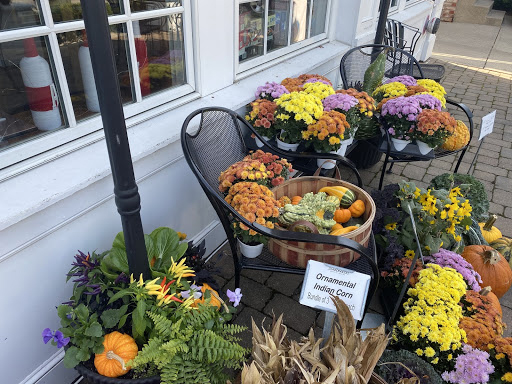 "We've been friends with Ann for a long time, so when she reached out to collaborate we thought it was such a great opportunity to connect our businesses," said Doug Drake, co-owner of Shademakers.
Doug and his brother, Rob Drake, have provided gardening and landscaping services in the Oxford area since 1991. 
Because of the pandemic, people have more time to experiment with gardening at home, and we are trying to provide the best service," said Kevin Wilson, a part-owner of Shademakers. "We already have two shops in Oxford, one is Shademakers Nursery and the other is Shademakers Garden Center, which is our new place that just opened this year," said Wilson. 
The coronavirus has created challenges but also unique, creative opportunities, for garden stores. As reported in a Springer agriculture research report in June: "Home gardening can play an important role in advancing food and nutritional security during and after the COVD-19 pandemic." 
With pumpkins, mums, gourds, and classic fall beverages such as pumpkin beer and apple cider slushies, Books & Brews and Shademakers offer customers all their fall favorites in one, combined location.
"We would love to do more in the community during this time and are very excited about our new partnership with Books & Brews," said Drake. 
Kamphaus is excited for this new partnership adventure and hopeful it will create more traffic for both businesses in the Oxford Community.
Kamphaus said she had wanted to own a coffee shop/bookstore for years before setting up with the Books & Brews franchise last year. Previously a children's librarian, her love for books, literature, and bringing people together inspired her to open Oxford's Books & Brews. 
Based in Indianapolis, Books & Brews appeals to people because it offers a unique culture of inclusivity and can entertain people with different interests, said Kamphaus.
In addition to the partnership with Shademakers, Kamphaus still has other plans in mind to attract diverse groups of people during these uncertain times.
"Our customers have remained varied. About 60 percent, I would say, are Miami students, but we still get a fair amount of families, business groups, townies and older community members," Kamphaus said. 
For instance, Delta Sigma Phi, just hosted its philanthropy euchre event privately at Books & Brews on Oct. 13.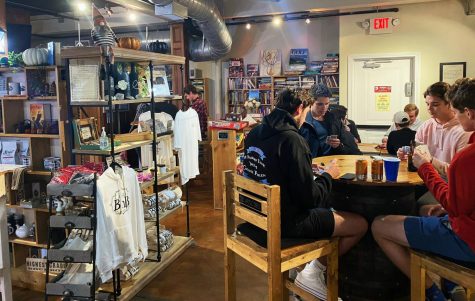 "We are more than happy to host philanthropic events like these so long as we have the room and can do so safely," Kamphaus said.
"I'm just so happy we are still in business. We have been very meticulous about safety while getting creative to keep customers coming in," said Delaney McLaughlin, worker at Books & Brews and a Miami Student.
A popular study spot for students by day and resident bar by night, has added fun specials to their nightly menu to increase revenue and attract diverse groups of people in the community.
With Martini Tuesdays, Wine Wednesdays and Trivia Thursdays, Books & Brews offers fun drink specials for their guests.
"There's a little something here for everyone," said Kamphaus. 
With craft beers and a full bar, coffee options, entrees and appetizers, $3 books, games to play, and wares from local vendors, Books & Brews was able to stay alive during COVID-19. A large source of revenue stems from college students, as it is a different type of bar to socialize at.
"The outdoor patio has been my COVID-19 savior," Kamphaus said. Adorned with lights, seasonal flowers, and spacious tables, it's been a popular spot among customers during this warmer weather.
"Ann has been incredibly innovative in order to keep her small business alive during Covid-19," said vendor Kelsey Hunsche. Hunsche just recently started selling her hand-made, oil roller necklaces at the start of COVID-19, and now makes and sells them at Books & Brews. Her business, Three Arrows Oils, offers rollers that have mixed scents, crystals, and different healing properties.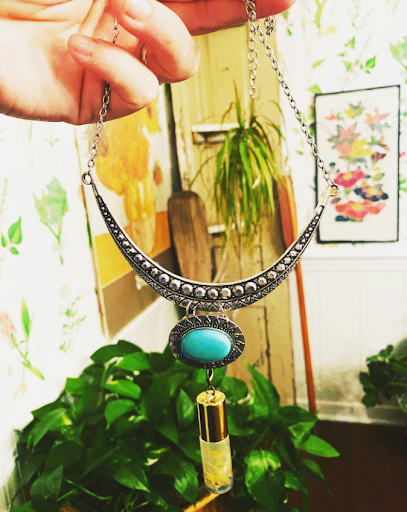 "I immediately reached out to Ann when I heard the Books & Brews franchise was coming to Oxford. I was just so excited! It's such a unique spot," Hunsche said.
Recently, Kamphaus and Hunsche have been in collaboration to brainstorm new ideas such as a "create your own roller night" that would be open to the public.
For now, Books & Brews remains a viable and fun option for all members of the Oxford community during COVID-19, with events, specials, and new partnerships.