Robert Smith, 86, Remembered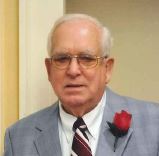 Melanie Clayton remembers the time her father, Robert Smith, put a bobcat in the freezer, startling her mother, who found it the next morning.
It was the kind of episode that became part of the family lore.
Smith, 86, a longtime Oxford resident, died Sept. 8.
The bobcat came from a hunting trip in Wyoming where he met a rancher who had killed the animal, but didn't want the carcass. Smith, who went by Bob, claimed the cat and kept it on ice in a cooler on the long drive back home to Oxford.
When he got home in the middle of the night, he wrapped it in plastic bags and put it in the freezer. His wife, Teenie, found it the following day when she opened the freezer in search of bacon to cook for breakfast.
People who knew Smith well would have seen the bobcat, stuffed and mounted atop the gun case in his living room, looking ready to pounce.
Smith graduated from Stewart High School in Oxford and served as president of the Grand Reunion for the school. This reunion brought together people from many different graduating classes. The reunions at first were held every five years but recently had been held more frequently, every two years, his daughter said.
A veteran of the U.S. Air Force, Smith served as a staff sergeant from 1951-1955 and fought in the Korean conflict.
Smith also served as president of the Hamilton-Middletown Beagle Club, where he met with a group of friends to run time trials of beagles chasing rabbits. He loved beagles and owned many of them throughout his lifetime.
Smith worked at Miami University as the director of technical services until retiring in 1983. During his retirement, he loved to go bargain hunting with his wife and particularly sought out old-fashioned cameras, his daughter recalled. He would find cameras which used to be priced at $100 being sold for just $3, but he negotiated the sellers down even further. Pretty soon everyone in his family had a camera of their own, but he kept buying more. Smith loved taking pictures and would often bring his camera on camping trips he took with his three children when they were young.
"The first two weeks of August we would go on a family vacation," his daughter said. "He showed us the world that way. We camped, and we went everywhere from here to Cheyenne, Wyoming, down to Disney World when it first opened [and to] South Carolina."
In addition to his daughter, he is survived by his wife, Teenie Smith, to whom he had been married for 64 years; a son, Robert A. Smith; another daughter, Cynthia Kist; grandchildren Emily Bryant, Katie Smith, Tim Kist, Danny Kist, Kelly Rouse, Phillip Clayton and Angie Miller; and 10 great-grandchildren.
Funeral services were Sept. 12, with interment in Oxford Cemetery. In lieu of flowers, the family is requesting donations to the Village Home Healthcare and Hospice. Condolences can also be left online at http://oglepaulyoungfuneralhome.com.
‍
‍
‍
‍
‍