Polar Vortex Blows into Oxford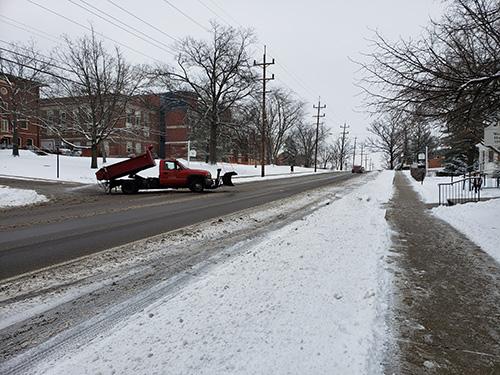 The extreme cold of Arctic winds closed schools in Oxford this week, causing people to hunker down at home or inside a favorite hangout. But by the time you read this, temperatures should be back up near seasonal norms and by the end of the weekend, it could be downright balmy.
A polar vortex froze the Midwest and headed east beginning on Wednesday with temperatures below zero and wind chills reported in some areas as low as -30 degrees. The Associated Press reported at least 21 deaths across the nation attributed to the weather since Wednesday, including vehicle accidents and cases of hypothermia.
No deaths were reported locally, although local officials warned people to dress in layers and to stay indoors. Talawanda School District cancelled classes on Wednesday, Thursday and Friday. Miami University cancelled classes on Wednesday, reopened on Thursday and then cancelled all classes before 10 a.m. on Friday.
"School districts have to consider students waiting outside at bus stops and buses making safe passage over country roads, so their concerns are slightly different than ours," said Claire Wagner, Miami's director of communications. "We knew (Thursday) would warm up and we have been advising students, staff and faculty for several days to dress appropriately for frigid temperatures. Our physical facilities crew had salted walks and drives just in case," she said Thursday.
"We always weigh safety of being outside (this time, no snow or ice) and the academic calendar and how much faculty will have to adjust syllabi if we cancel classes."
‍
Friday's late start announcement from the university attributed it to a dip in the weather and some additional snow.
The cold forced the cancelation of mail deliveries for certain areas in Northern Ohio, Cincinnati and Columbus on Wednesday. Oxford mail couriers did still deliver for a while, but stopped at 2 p.m.
The National Weather Service issued a wind chill warning at 4 a.m. Jan. 29 to last until Jan. 31 at 7 p.m. and a wind chill advisory was in effect from 7 p.m. Jan. 30 to 1 p.m. Jan. 31 due to wind chills that could be below -30 degrees.
The weather service warned that "the cold wind chills could cause frostbite on exposed skin in as little as 30 minutes."
Katie Estes, executive assistant at McCullough-Hyde Memorial Hospital, said Wednesday that no frostbite cases had been treated at the local emergency room.
‍
‍
Local temperatures were predicted to reach 32 degrees by 5 p.m. Friday and continue to warm into next week. The National Weather Service was predicting temperatures has high as 60 degrees by Wednesday.
But just in case they go back down, the Ohio Emergency Management Agency issued a few tips for protection from extreme cold:
Prepare to be indoors
Prevent frozen pipes by turning faucets on to drip and opening cabinet doors
Check local news for school closings
Fill up your gas tanks now to prevent fuel line freeze-up
Have an emergency kit in the car
Check on the elderly and your neighbors
Bring your pets indoors
In an email sent out by university communications, students were advised to dress warmly and given tips on how to do so, along with the warning signs of hypothermia:
Wear several layers of warm clothing to avoid exposure to water and wind
Cover your head because approximately 30 percent of heat loss occurs through the head
Wear dry gloves or mittens, scarves, socks, and boots to conserve heat
Maintain metabolic heat production by consuming adequate food and fluids
Drugs and alcohol impair judgment and can play a role in developing frostbite
Don't be outside longer than you need to be
‍
‍