With increased playing time for freshmen and sophomores, Talawanda teams experienced dynamic shifts that improved morale and led to impressive wins in the fall athletic season. 
As a huge wave of seniors graduated last school year, underclassmen got the chance to gain varsity experience early in their careers. In soccer and football, the teams faced a rebuilding season as freshmen and sophomores took over. Cross country saw sophomores take major strides with two qualifying for districts. Even in golf, where our seniors scored a spot in districts, a new generation of underclassmen golfers began to play on the varsity squad. The younger high school athletes took their opportunity to perform and made the most of it.
"We saw them improve greatly throughout the season, which will be huge for the future," athletic director Jake Richardson said.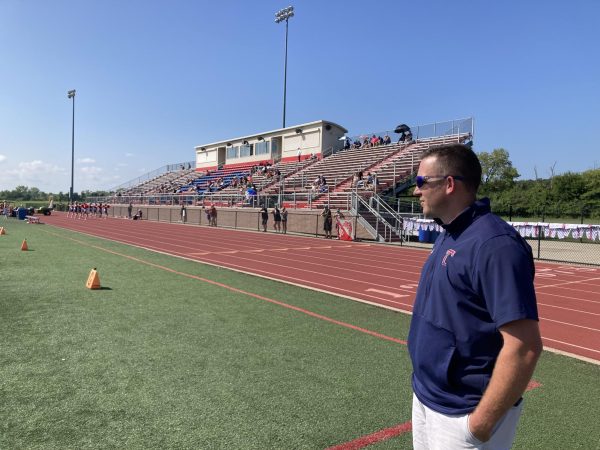 He said the season provided great foundational experience for both players and coaches, and he is excited to watch how players develop their skills over the next couple of years. 
"I think the big thing is just to capitalize and keep improving on the experience we got," Richardson said. 
This season at Talawanda, Andrew Stuckert took to the football sidelines as the new head coach. Richardson said that he was satisfied with the 2-8 season, given the large roster of freshmen and sophomores playing on Friday nights.
"So there's an old adage that for every sophomore you start, you have to count that as one loss on your record, and we kind of overcame that," Richardson said. "And we went from struggling to score a touchdown the first two, three weeks of the season to getting a couple big wins against decent schools and competing in a bunch of other games."
Senior Savannah Marcum said the soccer team benefitted from the shift in dynamics. As more younger players joined the team, Savannah says that the coaches altered their approach. 
"In past soccer seasons, there tended to be a lack of chemistry within the team," Savannah said. "I loved to watch our mentality completely shift, the team now playing as a unit rather than an individual."
Winter will also be a season of rebuilding for Talawanda athletics, with new coaches for boys basketball and wrestling. Bandon Burtis, who coached Talawanda's middle school wrestling team, now stands as the varsity head coach. Richardson said he's also looking forward to watching Taylor Alstatt as the new coach for boys basketball.
Richardson said he is also excited to watch the swim team, which always performs competitively, and noted that girls basketball coach Mary Jo Huismann has the second most wins in Ohio basketball history.