Spirits are high on the Talawanda boys varsity soccer team as it heads into the postseason. Athletes fill the field before practice, taking shots on net and juggling the ball to each other. Coach Heath Kelly calls out, "stop shooting the ball!" The players retreat, huddling in the center of the field awaiting instruction.  
Coming off a tough season of losses, the boys are headed into the 2023 OHSAA Soccer State Championship with a 3-11 record. While they faced many losses this season, their love for the game still prevails. 
"I'm having a lot of fun up here," Elias Jones, a sophomore goalkeeper, said. "It's harder because of the shots, but I've improved a lot."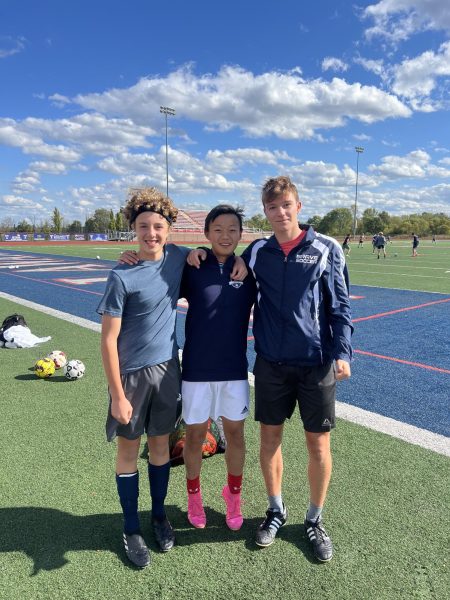 Main factors that have affected the team's success this season are inexperience, chemistry and basic skills, agreed Elias, senior captain Stephen Mullally and Harrison Zhang, sophomore midfielder. 
"We have a very young team," Mullally said. "Everybody has played some sort of organized soccer before joining this team, but we only have two players on the team who have played starting varsity."
After losing 13 players from last season, the team now has to learn how to play with each other. Team chemistry has been a huge factor in their recent wins, Elias said. 
"You can always work on the basics – passing, first touches, things like that – but our chemistry has improved a lot, and it's helped with those last few wins," Elias said.  
Harrison said that working on the basics also helped lead the team to their three wins.
"We're taking control of the ball more and passing it around better," Harrison said. 
The team will bring these improvements to the state tournament on Oct. 17, where they will first face the Kings Knights in hopes of moving forward in the district bracket. This is the first tournament that many of the players will be competing in, but Stephen said that he is confident in their abilities.
"I'm really proud of them with the improvement that I've seen," Stephen said. 
The team defeated Mt. Healthy twice this season with final scores of 6-3 and 10-5 on Aug. 31 and Sept. 21, respectively. They also defeated Franklin County on Sept. 27 with a score of 8-0.